Yassan Ichiza's traditional but fresh

Here at the Manga Museum, we have regular performances of "Kamishibai," a traditional Japanese style of story-telling with pictures, which used to be popular as street entertainment. Everyone from children to the elderly can enjoy performances by the Museum's Kamishibai group, known as Yassan Ichiza.


※One performance lasts about 30 minutes.
※We have sometime between performances, you can watch an apprentice Kamishibai artist test his or her skills.
※As there may be changes or cancellations, please confirm the performance time beforehand.




2nd floor, Kamishibai room (Gallery 5)
Program of Kamishibai Performances
"Golden Bat
Four Panel Kamishibai
Kamishibai Without Words
MM Original Kamishibai
etc…"
Profiles of the Members of "Yassan Ichiza", our Kamishibai Group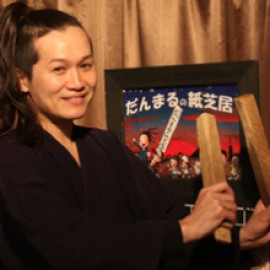 He grew up watching Yassan perform Kamishibai. Danmaru draws pictures with a free heart, and has a special dream. That dream is to build a log house or tree house in the mountains and construct a "Country of Dreams" for children. That's how he chose this path, the path of a Kamishibai artist. Alright, it's time for a Kamishibai performance by Danmaru! C'mon!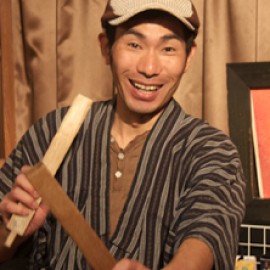 In 2004, while active as a Kamishibai artist, he entered an agricultural training program in Mie Prefecture. In the fields and paddies there, he came to understand the formless yet tangible power of "life." He wanted to convey that through words, and realized that Kamishibai could enable him to do that. In 2005, he met Yassan and became his apprentice. He debuted in early January of 2006. From then on, Rakkyomu, along with Chaka Maru, has been in charge of commissioned performances from Kawanishi City in Hyogo Prefecture and Wakayama City in Wakayama Prefecture. Since May 2007, while performing periodically at our museum, he has been doing farmwork. He wants to perform Kamishibai that focus on agriculture.
Manga has garnered much attention from teachers and others in fields related to children's education and culture, because it is a powerful tool for communication, and a medium of expression that is easily accessible to children. Especially interesting is the relationship between Kamishibai and popular culture, as it enjoyed widespread popularity in Japan from the 1930s to the 1950s. When Kamishibai was at its peak, around 1950, there were said to be about 3000 Kamishibai performers in Tokyo, and 50,000 in all of Japan. What's more, a number of now famous manga artists, such as Kojima Goseki, Shirato Sanpei, and Mizuki Shigeru, got their start in Kamishibai during this period. Thus, although the spread of television in the late 1950s and early 1960s led to a decline in Kamishibai's popularity, its stories and characters, and even some of its methods of expression, lived on in the form of manga.
There are actually two types of Kamishibai: "street-corner" and "educational." The latter includes Kamishibai used for education during World War II, which continued after the war to play an important role in children's education and edification. Through both of these styles, Kamishibai has considerable influence on children; many people are now considering its potential uses in education.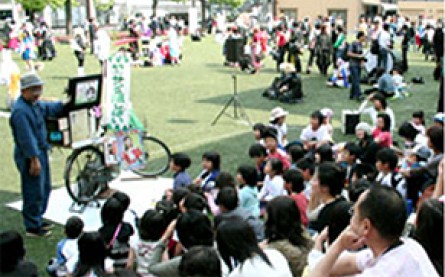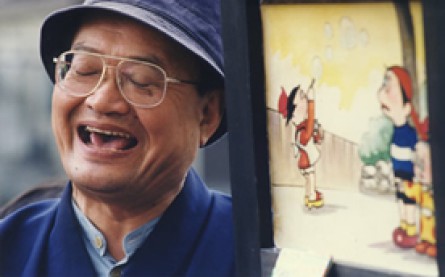 *Due to the spread of COVID-19, the schedule and content of the exhibition and museum closure can change. Thank you for your understanding.