There is a huge line up of goods in the museum shop right next to the entrance! The impressive array of goods includes our mascot character MAMYU and items exclusive to the museum shop. We even stock rare translated manga and manga research books, as well as limited edition event goods. Please browse our store for your favorite item as a souvenir or memento of your visit.
1st floor near the entrance
* No admission fee is required to use the shop only.

Days the museum is closed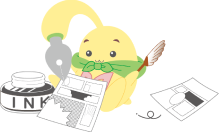 Original items
Introducing the museum's original goods, to commemorate your visit.
* Consumer tax is included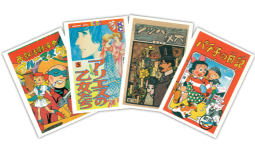 MM Original picture postcards (4 different kinds)
150yen for one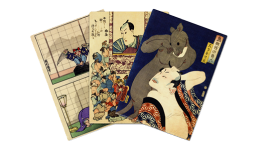 Original clear file folder
(Edo Giga) (3 different kinds)
330yen for one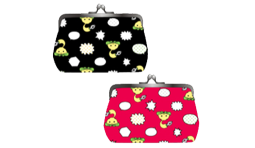 Purse with metal clasp
(2 different kinds)
1,458yen
Translated manga corner
There are translated manga and books.
* Consumer tax is included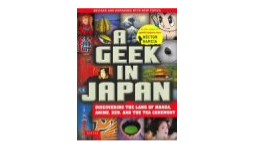 A GEEK IN JAPAN
1,980yen

Ninja Attack!
1,540yen
ONE PIECE Vol.1 (English translation)
NARUTO Vol.1 (English translation)
DRAGON BALL (English translation)
1,617yen for one
Manga research books
This is a corner with academic books written by museum executive director and professors at Kyoto Seika University and researchers at Kyoto Seika University International Manga Research Center and etc.
* Consumer tax is included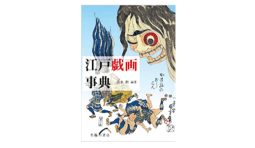 Edo Giga Encyclopedia Encyclopedia Editor: Shimizu
Rinkawa shoten
4,180yen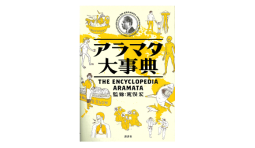 Alamata Encyclopedia
Supervision: Aramata Hiroshi
Kodansha
2,420yen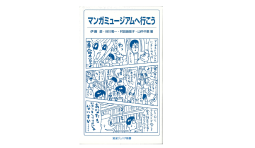 Let's go to the manga museum
Author: Ito Yu, Tanigawa Ryuichi, Murata Mariko, Yamanaka Chie
Iwanami Shoten
946yen
Museum exhibitions and collection related publications
These publications contain material from special exhibitions held at the museum, and materials held in the museum's collection.
* Consumer tax is included.

GIGA MANGA:
From Edo Giga to Modern Manga
(Mainichi Shinbun)
2,530yen
※Exhibition held from 14 Nov 2015 – 7 Feb 2016.「Great Manga History Traces from Edo」

※Nationwide tour in 2020 and 2021 as GIGA MANGA: From Edo Giga to Modern Manga.

Manga
(British Museum)
6,600yen
※Materials loaned to The Citi exhibition held at the British Museum

Eshi 100 Part 3
(Sankei Shinbun)
2,618yen
※Exhibition held from 7 Dec 2013 – 11 Feb 2014. Eshi 100 Part 3 Contemporary Japanese Illustration in Kyoto