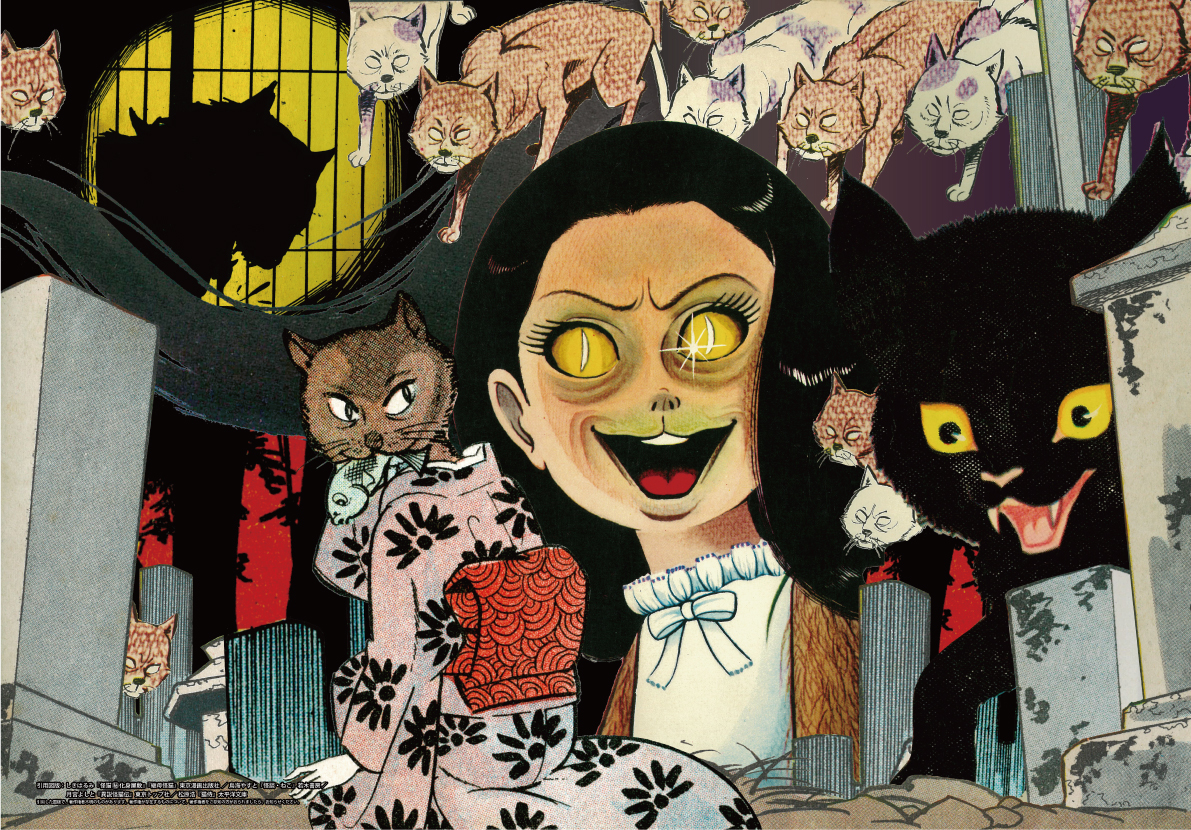 The 10th Treasure TroveMANGA-ful
Summer's "Treasure Trove MANGA-ful"is monster cats! ~ Grudge! Monster cat manga ~
2022/9/9 (Fri) ~
Content
The Kyoto International Manga Museum has an ongoing mini exhibition series called "Treasure Trove MANGA-ful", curated by the museum's Executive Director Aramata Hiroshi, with the aim of "tracing forgotten ancestors of manga to search the roots of contemporary manga". The "MANGA-ful treasures", as coined by Executive Director Aramata, include manga that are "as good as buried in the trash unless someone finds them", and their value is that junk is intrinsically fun.

(From the greetings of the exhibition by Director Aramata)
Hello from Executive Director Aramata.
The pandemic is not over yet.
It makes me wonder and want to ask if there's some grudge being held.
What's that? Whose grudge? Well, there's no point directing towards the virus.
At times like this, Japanese people call it a "ghost grudge".
Especially in the case of monster cats, in Japan, we have "neko-mata", a type of cat spirit which holds grudges in place of people who have suffered bad experiences.
These kinds of stories are why during the summer Obon festival, monsters turn up frequently in movies, novels, and manga. I watched these with excitement as a child.
Back in the day, there was even "monster cat actresses" who were said to be the best in Japan for these kinds of roles. I don't know why, but I can never forget the way these famous actresses worked so hard to play the scary "grudge cat".
And so, this summer I was searching the museum's collection to dig up forgotten B-grade manga, and there I found some now-forgotten monster cat stories.
Let's enjoy them together, and we'll see that monster cats have an eternal charm.

Kyoto International Manga Museum / "Treasure Trove MANGA-ful"
Executive Director, Aramata Hiroshi





Citation pictures at the top of the page:
しきはるみ『飼猫㊙化身屋敷』『継母怪猫』東京漫画出版社/鳥海やすと『怪談・ねこ』若木書房/月宮よしと『異説怪猫伝』東京トップ社/松原浩『猫侍』太平洋文庫
*Some of the illustrations cited in the visuals at the top of the page have unknown copyright holders. Please let me know if anyone knows about copyrighted material.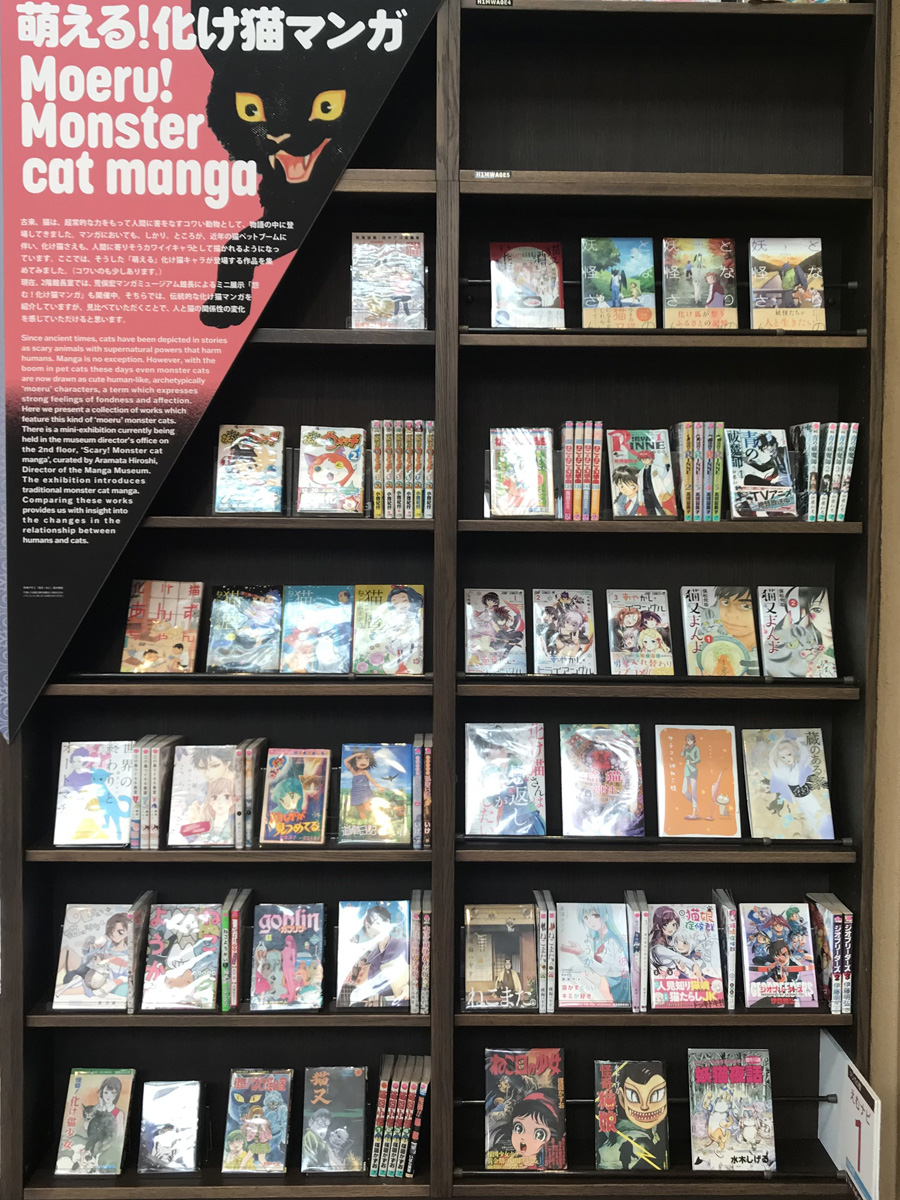 From 'Grudge!' Monster cats to 'Moeru!' Monster cats
Cats have been depicted in stories since ancient times as scary animals with supernatural powers that harm humans. However, with the boom in pet cats these days even monster cats are now drawn as cute human-like, archetypically 'moeru' characters, a term which expresses strong feelings of fondness and affection.
In the 1st floor atrium of the museum, on the 'M-Navi' special feature shelves, you can view a collection of manga books featureing this kind of 'moeru' monster cat characters in the exhibit 'Moeru!' Monster cat.
Organizers: Kyoto International Manga Museum / Kyoto Seika University International Manga Research Center
*Due to the spread of COVID-19, the schedule and content of the exhibition and museum closure can change. Thank you for your understanding.