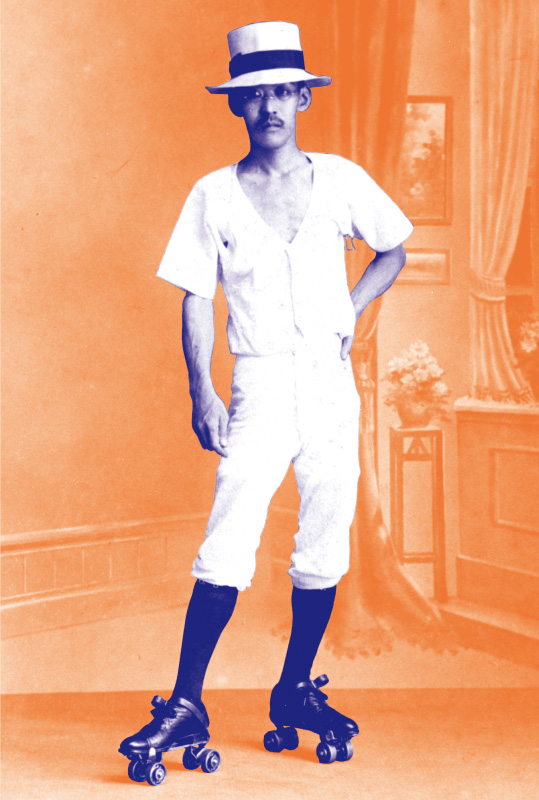 The 6th Treasure TroveMANGA-ful
'Hobby King' Mita Heibonji, revived in the Reiwa era!?
---
2019/12/22(Sun)〜2020/4/13(Mon)
"Treasure Trove MANGA-ful" is a mini exhibition series curated by Aramata Hiroshi, the executive director of the manga museum, to "trace forgotten ancestors of manga to search the roots of contemporary manga".
This sixth installment highlights the work of Mita Heibonji (1876 – 1960), an enigmatic hobbyist highly regarded by those who knew him. He made his own roller-skating rink at home in the Taisho era, and organized Garakutashuu, a group of collectors of strange things.
We will unveil selected items from the vast collection of materials entrusted to us by Heibonji's descendants including his grandson, manga columnist and researcher Natsume Fusanosuke.
Closures

Every Wednesday
December 25–January 4, January 14–January 18 and February 6

Venue

2F In front of executive director's office

Fee

Organizers

Kyoto International Manga Museum
Kyoto Seika University International Manga Research Center
内容
〈COLLECT〉 A number of 'junk' related scrapbooks and other materials collected by Heibonji.
〈ORGANIZE〉 Several materials related to the collectors group Garakutashuu that was led by Heibonji.
〈CREATE〉 Works created by Heibonji, including a hand-drawn yokai (spirits) picture scroll, and science fiction picture book 'X kosen' (X ray), and a series of New Year's card woodblock prints, etc.
〈Comment from Aramata Hiroshi, Director of Treasure Trove MANGA-ful〉
From the Meiji period to the beginning of the Showa period, there was a master hobbyist known as Mita Heibonji. Those times were a little different to the present. It was in vogue to find interest in things that other people did not care about, or thought of as garbage. Lunch box wrapping paper, match labels, business cards and love letters, even stones found in the streets have been themes of collections. It was thought that collecting objects can tell the collector's individuality and sense for style. Having this kind of perspective is a proof of being a hobbyist.
Heibonji was the mastermind, or indeed the very originator of these kind of eccentric hobbies. He was famous as a collector of skulls, but was not limited to that. He even held an interest in poop, and took a mold of some large dropping to replicate in gold. He also drew 'giga' caricatures (precursors to manga), composed comical poems, and it is said that he jumped at the chance to remodel his second floor into a roller skating rink when skates had just been introduced to Japan from abroad, loudly sliding around. It is thought that he studied art and writing under first-class teachers, loved reading and taught himself to read Western books. Many scholars traveled from within Japan and abroad to be taught by him as well.
During the Taisho period, Heibonji created a hobby collectors club called Garakutashu to expand the circle of junk collectors. It was a social phenomenon similar to the 'otaku' of the Showa and Heisei periods. Perhaps our present day Reiwa era culture is still part of Heibonji's circle. The range of his interests was so wide that we do not really know the full picture.
We have decided to explore Heibonji's world at the Manga Museum. For you see, whether we will uncover a treasure, a snake, or something a little naughty… we really have no idea, but don't you think it is a great fit for the Manga Treasure Trove MANGA-ful? We will start by taking a look at some easy to understand ghost paintings and fashionable picture postcards. Please enjoy the 'rediscovery' of this eccentric man.
Director of the Treasure Trove MANGA-ful, Aramata Hiroshi
---
Mita Heibonji
Born Mita Rinzo in 1876 (Meiji 9), Tokyo, Heibonji was the eldest son of a lumber dealer.
As a child, he was not especially healthy, and was frequently absent from school, then he lost his hearing at the age of 14. Although he did not undertake a formal education, he studied traditional Edo cultural refinements to the fullest. This included learning drawing from Kobayashi Kiyochika* and learning 'dodoitsu', a form of unrhymed non-metrical verse, from Otei Kinsho**. He also learned 'kyoka', a comical form of poetry, from Nozaki Sabun; and 'kyoshi', another comical form of poetry, from Maki Chino. Aside from these studies, he acquired Western books to gather knowledge from abroad.
Heibonji was a collector of unusual things, and in 1919 started a hobby collectors club called Garakutashu, which was made up of regional branches, including one in Kyoto. It was hugely popular throughout the Taisho era to the early Showa era. Garakutashu was made up of literary artists, scholars, and collectors, and formed a unique network for its time, and is said to have been responsible in part for amassing 'mountains' of knowledge, although little more is known of its founder Heibonji.
He died in 1960.
Heibonji was the maternal grandfather of manga columnist and researcher Natsume Fusanosuke, whose paternal grandfather was famed novelist Natsume Soseki.
*Kobayashi Kiyochika: 1847-1915, the so-called 'last of the ukiyoe artists', who also frequently contributed caricatures to manga magazines like Maru Maru Chinbun
**Otei Kinsho 1868-1954, apprentice of Baitei Kinga, editor-in-chief of Maru Maru Chinbun

Reference list
Fujino, Shigeru. (2007). Garakutashu shuin retsuden. Omi kyodogangu kenkyukai.
Yamaguchi, Masao. (2001, (2010)), Uchida Roan sammyaku: `ushinawareta Nihonjin' hakkutsu. Shobunsha (Iwanami Shoten).

---
-Exhibition view-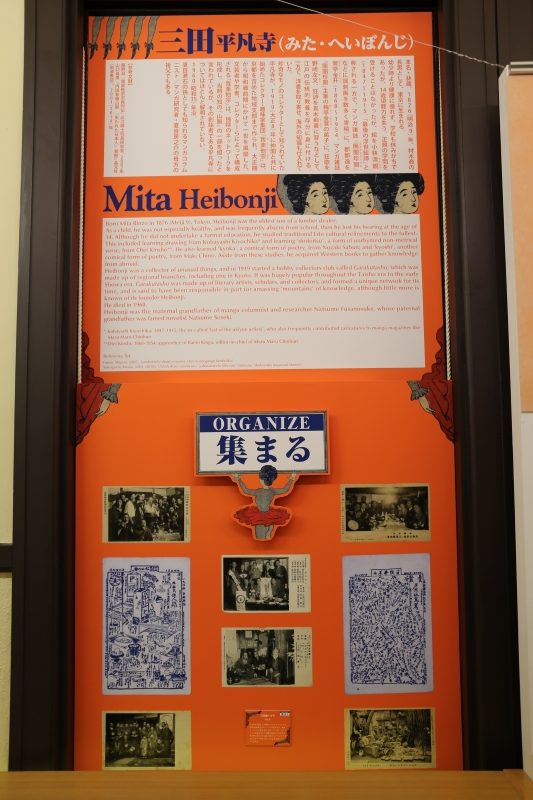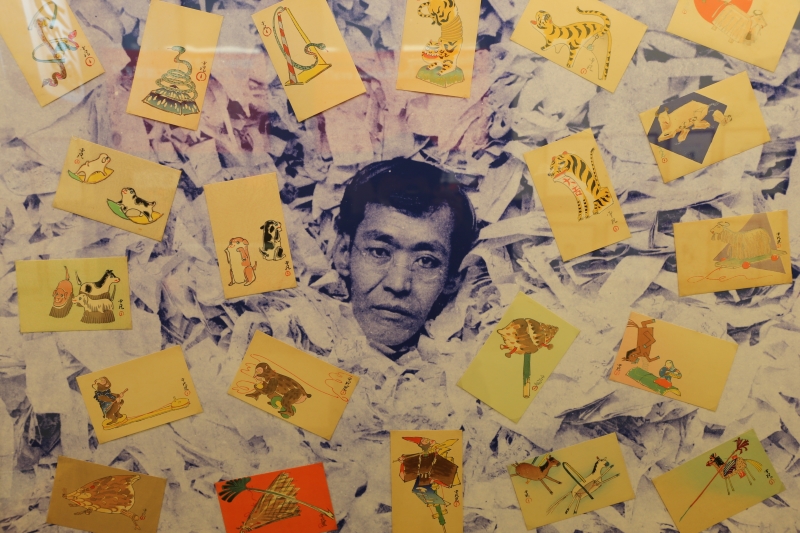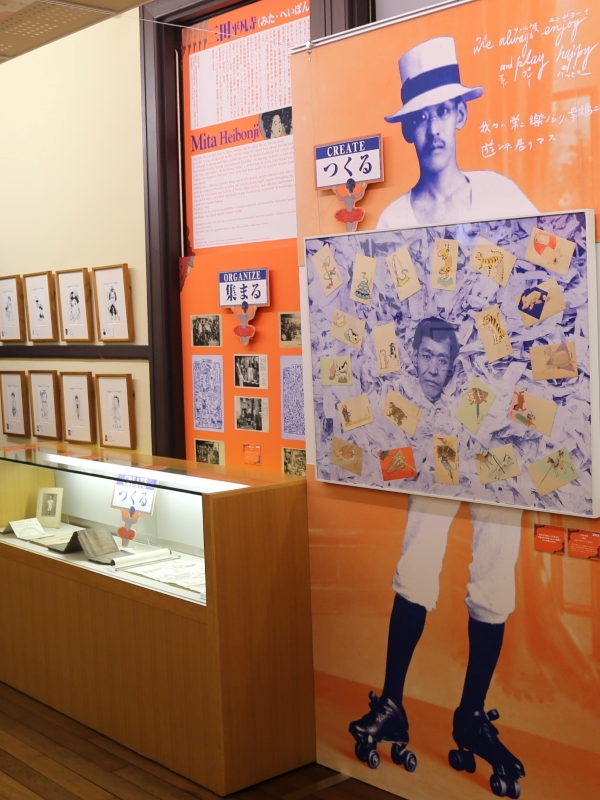 ---
*Please note that the schedule, performers, and contents are subject to change.