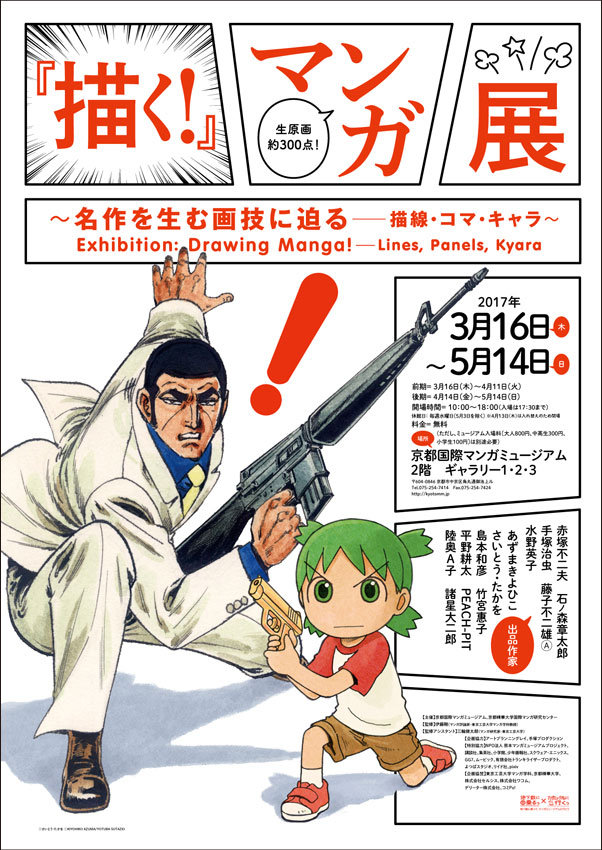 The exhibition focuses on the intrinsic acts of 'drawing'!
Exhibition: Drawing Manga! –Lines, Panels, Kyara
---
[Second half] 2017/4/14(Fri)~5/14(Sun)
The Kyoto International Manga Museum is pleased to present an exhibition focused on 'drawing' in support of manga culture.
This exhibition will feature works by 13 artists, showcasing roughly 300 pieces of original manga artwork (including some replicas, exhibited across two rotation periods). In addition to being a valuable opportunity to closely experience the outstanding artistic techniques used by manga artist, the exhibition also explores the unique Japanese cultural environment that nurtured them from 'readers' into 'drawers.'
Furthermore, this will be the final venue for this exhibition which began at the Oita Prefectural Art Museum in August 2015, and has since been held in five locations around the country.
Related events such as talk shows (3/18, 5/3) and workshop are also scheduled to be held.
Closures

Every Wednesday (excluding May 3rd)

*Galleries will be closed on April 13th for changing the content

Venue

2F Gallery 1, 2, 3 and 1F Atrium hall

Fee
内容
Japanese people draw so much manga, and not only professional artists. Indeed, many people draw 'pictures.' A lot of manga readers have experience 'drawing', by imitating their favorite manga, and it is no exaggeration to say that the massive numbers of these 'drawing' readers who continue to exist have sustained the prosperity of modern manga.
This exhibition focuses on the intrinsic acts of 'drawing', 'showing people', and 'enjoying' manga. In addition to introducing the outstanding artistic techniques of preeminent artists from the postwar period to the present through original artwork, materials, and footage, we will use historical materials to explain the cultural background that nurtured and brought forth these artists.
《Exhibition material》

1)Approximately 300 works (exhibited over two rotation periods) of original artwork (including some replicas) by 13 artists.
[Exhibited Artists] Tezuka Osamu, Ishinomori Shotaro, Fujiko FujioⒶ, Akatsuka Fujio, Mizuno Hideko, Saito Takao, Takemiya Keiko, Mutsu Ako, Morohoshi Daijiro, Shimamoto Kazuhiko, Hirano Kouta, Azuma Kiyohiko and PEACH-PIT
2)Explanatory panels and historical documents exemplifying the Japanese manga cultural environment that has given rise to 'drawing' people.
3)Panels by manga artist Tanaka Keiichi analyzing the manga artistic expressions of some of the above mentioned artists (8 artists).
Organization
Kyoto International Manga Museum
Kyoto Seika University International Manga Research Center
Supervisor
Ito Go
(Manga Critic; Associate Professor, Tokyo Polytechnic University Department of Manga)
Supervision Assistant
Miwa Kentaro 
(Manga Researcher, Tokyo Polytechnic University)
Planning support
Tokyo Polytechnic University Department of Manga
Kyoto Seika University
CELSYS,Inc.
Wacom Co., Ltd.
DELETER. INC.
ComiPo!
Planning cooperation
Art Planning Rey
TEZUKA PRODUCTIONS
Special cooperation
INTERNATIONAL INSTITUTE FOR CHILDREN'S LITERATURE,OSAKA
Kumamoto Manga Museum Project (NPO)
VOLKS INC.
KODANSHA
SHUEISHA
SHOGAKUKAN
Shonengahosha
SQUARE ENIX
GG7
MOVIC
Tranquilizer product Ltd.
YOTUBA SUTAZIO
LEED Publishing
pixiv
---
*Please note that the schedule, performers, and contents are subject to change.