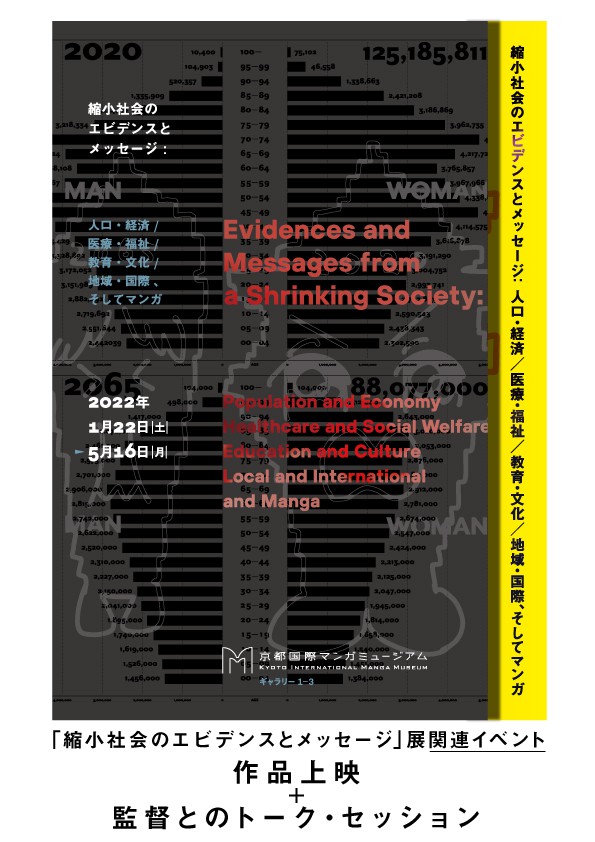 *Due to the worsening infection status of the new coronavirus, this event on 1/29 and 1/30 will be held remotely. Details such as how to browse will be notified to those who have registered for participation.(2022/1/20)
*In response to the announcement of "priority measures such as prevention of spread" to Kyoto Prefecture of the new coronavirus infectious disease, this event will be held remotely. Details such as how to browse will be notified to those who have registered for participation.(2022/1/27)
100 seats/ each
*registration required
*first come first serve basis
Free
* A General Admission ticket to the Museum is also not required.
*It has been changed to be held online on 1/29 and 1/30, 2/20, but you cannot enter our museum with this event participation ticket.
*The special exhibit of Shunga from the Nichibunken collection scheduled for February 19th (Sat) will be exhibited at the time of the symposium on March 13th (Sun). Only the purchase ticket on February 19th (Sat) will be free to enter by presenting the purchase ticket when entering the museum on March 13th (Sun). Details will be notified to those who have registered for participation.
Apply from the application button on each day below.
Collaborative research group "Cultural Creativity in a Shrinking Society: Individuals, Networks, Capital, and Systems" International Research Center for Japanese Studies (Nichibunken) (Project of "Visualization and sophistication of front line research utilizing museums and exhibitions" by the National Institutes for the Humanities), Kyoto Seika University International Manga Research Center, Kyoto International Manga Museum
Content
The film festival "Thoughts of a shrinking society", held as a related event to the special exhibition "Evidences and Messages from a Shrinking Society", will include a series of movie screenings and talk sessions.
The festival will present screenings of four carefully selected and excellent documentary films which capture the drastic changes that are fundamentally changing the state of Japanese society and culture, as presented in the exhibition, including the dysfunction, collapse, and reduction of existing structures in various regions, and the declining population of modern Japanese society.
Each screening will be followed by a dialogue (talk session) between the documentary's director and the viewers to provide an opportunity to learn about the current state of Japan's 'shrinking society' and think about the future of Japanese society. This festival will be hosted by the event coordinator Tanikawa Takeshi (visiting professor at Waseda University) who is one of the exhibition planners.
(Event only in Japanese)

Futago rekiki shishosetsu
History of twins – a private novel
2018, 110mins

January 29 (Sat), 2022
Guests: Director Hara Masato, Hara Maori (actress)




Sakura no ki no shita
Under the cherry tree
2016, 91mins

January 30 (Sun), 2022
Guests: Director Tanaka Kei, Miwaki Yasuo (Professor at Jin-ai University, Commentator)




Shunga to Nihonjin
Erotic woodblock prints and Japanese people

2018, 87mins

February 19 (Sat), 2022
Guests: Director Ogaki Atsushi, Ishigami Aki (Specially Appointed Assistant Professor, International Research Center for Japanese Studies, Commentator)

※Children under the age of 18 are not able to participate.
※There is a special exhibition of Shunga (erotic woodblock prints) from the Nichibunken collection at the venue.




Kodokuna tsubame-tachi
Lonely swallows
2012, 121mins

February 20 (Sun), 2022
Guests: Director Tsumura Kimihiro, Tamanoi Mariko (Professor at UCLA)




*Due to the spread of COVID-19, the schedule and content of the exhibition and museum closure can change. Thank you for your understanding.