This area at the entrance is a photo shooting area. My desk at the time was like this too!
The memories that I kept deeply in mind is now leaking out…
For people like me, there is a space where you can expose your feeling.
Manga Museum version
Furoku Fan Room!!!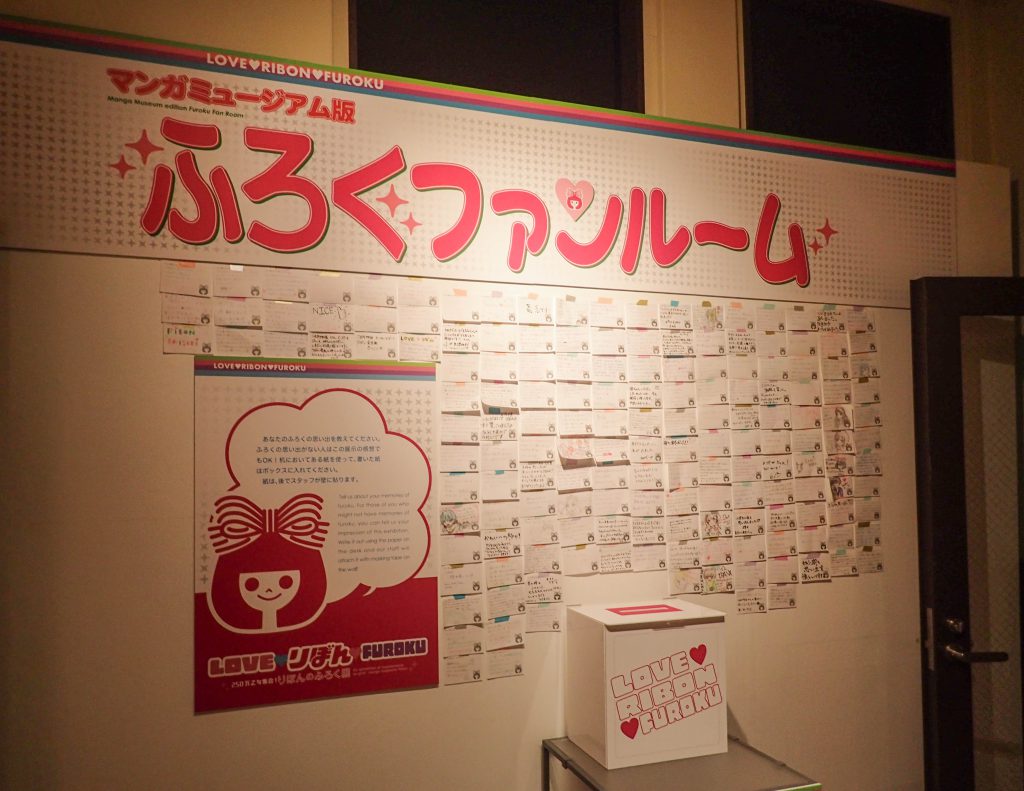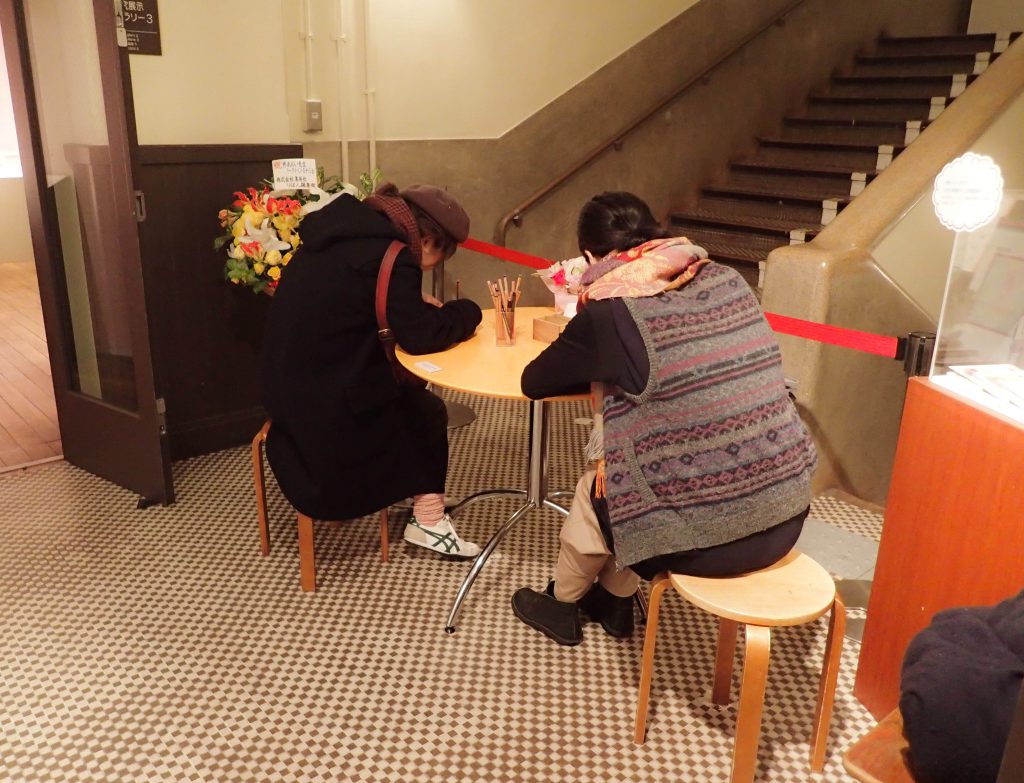 You can write and draw your thought to the exhibition here!
So these are the some of the comments!
-*-*-*-*-*-*-*-*-*-*-*-*-
I cried when I found the furoku that I had.
I am glad to be here.
-*-*-*-*-*-*-*-*-*-*-*-*-
I felt like I went back to the time.
All the furoku were so cute and fashionable!
Ribon always has been and will be my root! I Love it!!
-*-*-*-*-*-*-*-*-*-*-*-*-
I was always waiting for the publishing date so I can remember all the gifts so well!
I enjoyed tracing my old time with the excitement.
I was so happy to see the nostalgic furoku and actual art works so close.
-*-*-*-*-*-*-*-*-*-*-*-*-
I almost felt like I went back to my childhood. I couldn't leave the area with Ranze by Ikeno Koi that I really loved. I really hope these works will be published as an illustration work.
Thank you so much for giving me an opportunity to have the feeling again.
-*-*-*-*-*-*-*-*-*-*-*-*-
A camera I got in 1996 made me become a cameraman.
-*-*-*-*-*-*-*-*-*-*-*-*-
I came with my 0 year old daughter. Such nostalgic time! I hope one day my daughter become Ribon reader too.
-*-*-*-*-*-*-*-*-*-*-*-*-
I am now 40 but still have and use some of furoku since 1985. I can build things from paper easily as I practiced hard through having Ribon magazines. Thank you!
-*-*-*-*-*-*-*-*-*-*-*-*-
Many nostalgic furoku made me smile. Because they were made of papers I still have some of them.
Thank you!
-*-*-*-*-*-*-*-*-*-*-*-*-
30 years since I met "Tokimeki tonight".
I am a Thai but now I am studying Japanese with being inspired by Japanese manga. I really like them.
-*-*-*-*-*-*-*-*-*-*-*-*-
What a cute designs with original drawings!
Very thoughtfully made. Take care of the furoku!
-*-*-*-*-*-*-*-*-*-*-*-*-
I was in love with manga by Mutsu Ako.
I met the furoku that I had at the exhibition. Thank you so much.
I hope Ribon can keep going well~!
-*-*-*-*-*-*-*-*-*-*-*-*
Please come and take a part in filling this wall with your feeling!
Don't miss the products at the museum shop too!