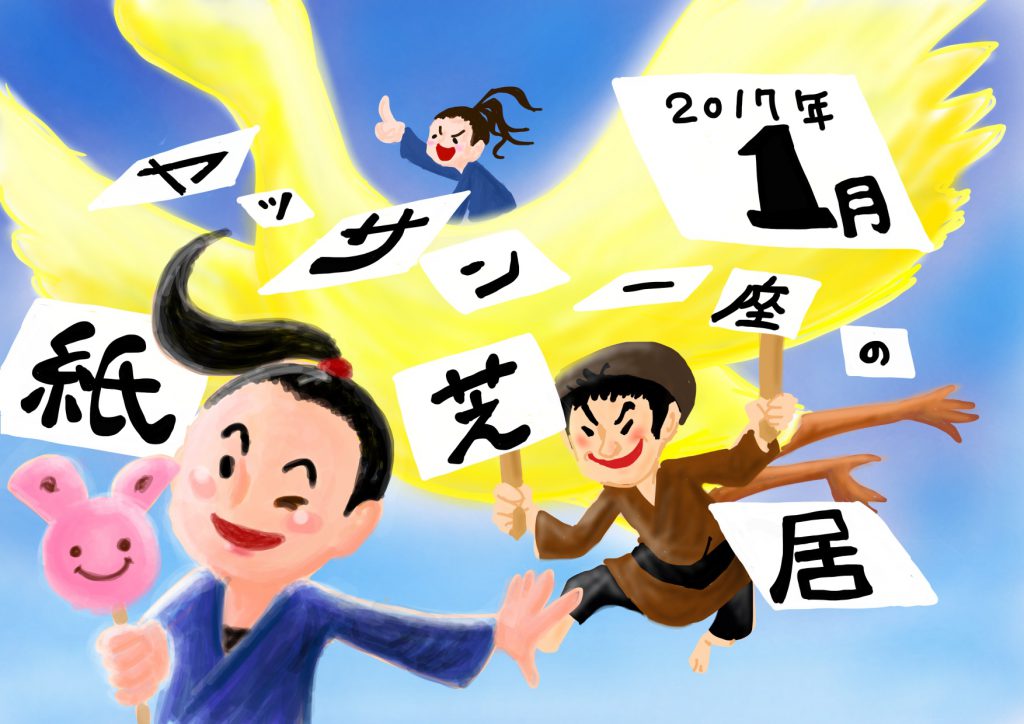 。・:*:・゚★,。・:*:・゚☆Kamishibai Schedule January・:*:・゚★,。・:*:・゚☆
5 (Thu.) Danmaru
6 (Fri.) Rakkyomu
7 (Sat.) Rakkyomu
8(Sun.)Rakkyomu
9(Mon. holiday)Danmaru
10(Tue.)Ikkyu
12(Thu.)Danmaru
13(Fri.)Rakkyomu
14(Sat.)Danmaru
15(Sun.)Ikkyu
16(Mon.)Ikkyu
17(Tue.)Danmaru
19(Thu.)Rakkyomu
20(Fri.)Ikkyu
21(Sat.)Ikkyu
22(Sun.)Ikkyu
23(Mon.)Rakkyomu
24(Tue.)Rakkyomu
26(Thu.)Ikkyu
27(Fri.)Danmaru
28(Sat.)Rakkyomu
29(Sun.)Rakkyomu
30(Mon.)Rakkyomu
31(Tue.)Rakkyomu
 It's been 10 years since the Manga Museum was born on this planet.
 We, Yassan-ichiza, have been walking with this museum from the beginning, for the 10 years.

 Children come in and say "wow, this reminds me of childhood days!"
 It's funny.  How come they can say so even they are around 10 years old or younger?

 When their grand parents were children, there was on television.  Then, here came a Kamishibai performing man with sound of clapping woods as the sun getting down to turn the town red.
 All children got together to share the same paintings just like sharing time with family at home.  This kind of scene can be seen less in today's digitized world, but children somehow desire to spend time like that past.  Their feeling might leads children to say Kamishibai reminds them of childhood days.

 Children, adults, and people from all around the world gather, focus on a small paintings, and share the time and laugh together.

 It's interactive.  Not one way communication.

 Children's crazy words and answers at unexpected timing make us also laugh together.

 Children let us improve as Kamishibai performers.

 Who's gonna come next this year?  Children?  Former children?
 10-year sounds not new, but we always feel new to each Kamishibai.

 When you hear the sound of clapping woods,  go through the passage about 500 meters long on 2nd floor, and make right turn to turn left.  Then, there you are! Kamishibai  room!
 Make sure to bring your childhood mind with you!!!!!