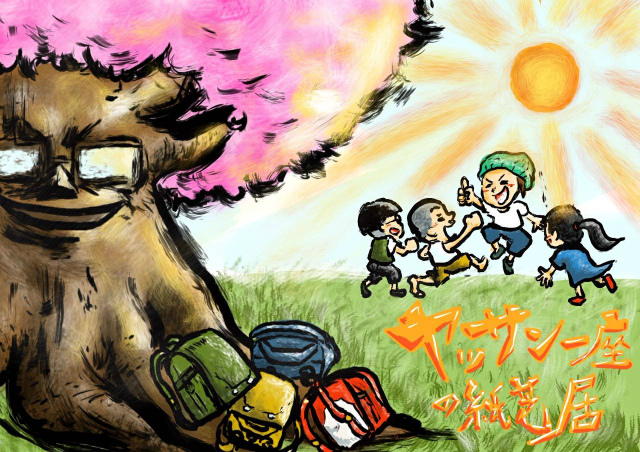 。・:*:・゚★,。・:*:・゚☆Kamishibai April Schedule・:*:・゚★,。・:*:・゚☆
1(Mon.) Ikkyu
2(Tue.) Ikkyu
4(Thu.) Ikkyu
5(Fri.) Rakkyomu
6(Sat.) Danmaru
7(Sun.) Rakkyomu
8(Mon.) Danmaru
9(Tue.) Danmaru
11(Thu.) Rakkyomu
12(Fri.) Ikkyu
13(Sat.) Danmaru
14(Sun.) Rakkyomu
15(Mon.) Rakkyomu
18(Thu.) Danmaru
19(Fri.) Danmaru
20(Sat.) Rakkyomu
21(Sun.) Danmaru
22(Mon.) Ikkyu
23(Tue.) Ikkyu
25(Thu.) Ikkyu
26(Fri.) Danmaru
27(Sat.) Ikkyu
28(Sun.) Danmaru
29(Mon.) Rakkyomu
30(Tue.) Ikkyu
---
Spring!!
It's a new beginning!!
The colorful town makes my heart happy♪
New things make my heart excited.
Hopes make my heart thrilled!!
Then the world sparklingly shines.
What kind of year is this going to be?
What kind of year I want?
We can have lots and lots of feelings.
Perhaps it's because of our playful mind inside our heart.
Growing-up doesn't mean losing the playful mind as children. We always can be children.
Laugh and cry, and be happy!
We are always waiting for your coming to our Kamishibai hut!!
(Ikkyu)