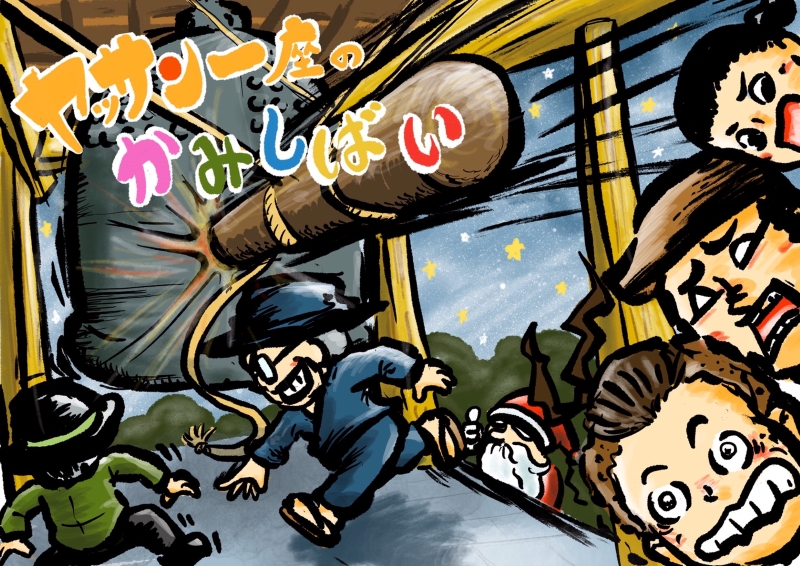 。・:*:・゚★,。・:*:・゚☆Kamishibai December Schedule・:*:・゚★,。・:*:・゚☆
1 (Sun.) Danmaru
2 (Mon.) Ikkyu
3 (Tue.) Danmaru
4 (Wed.) closure
5 (Thu.) Rakkyomu
6 (Fri.) Rakkyomu
7 (Sat.) Ikkyu
8 (Sun.) Rakkyomu
9 (Mon.) Rakkyomu
10 (Tue.) Rakkyomu
11 (Wed.) closure
12 (Thu.) Ikkyu
13 (Fri.) Danmaru
14 (Sat.) Ikkyu
15 (Sun.) Ikkyu
16 (Mon.) Danmaru
17 (Tue.) Danmaru
18 (Wed.) closure
19 (Thu.) Rakkyomu
20 (Fri.) Rakkyomu
21 (Sat.) Ikkyu
22 (Sun.) Ikkyu
23 (Mon.) Rakkyomu
24 (Tue.) Danmaru
---
Santa Clause has rich white heard.
It's because he is an unidentifiable old man.
Nobody knows, and nobody can't know
who's Santa Clause really is.
As a child, 1 year is a long time which passes so slowly.
What if one is bullied, the one would feel as if these harsh days lasts forever.
In the end of a year, even in serious cold, Santa Clause tells us "your life is blessed."
Nobody knows who he is, and nobody needn't know it.
As we follow one Japanese custom of cleaning-up before new year
and hearing the sound of bell 108 times on new year's eve,
they may be your power to cheer you up for another year.
If that happens to you, I believe that Santa might be satisfied.
What we need is a secret hideout for our heart.
It's a place where the power to live stays.
Even we can't be Santa, our Kamishibai hut will always release a Santa-spirit until the end of this year and the following years.
(Rakkyomu)