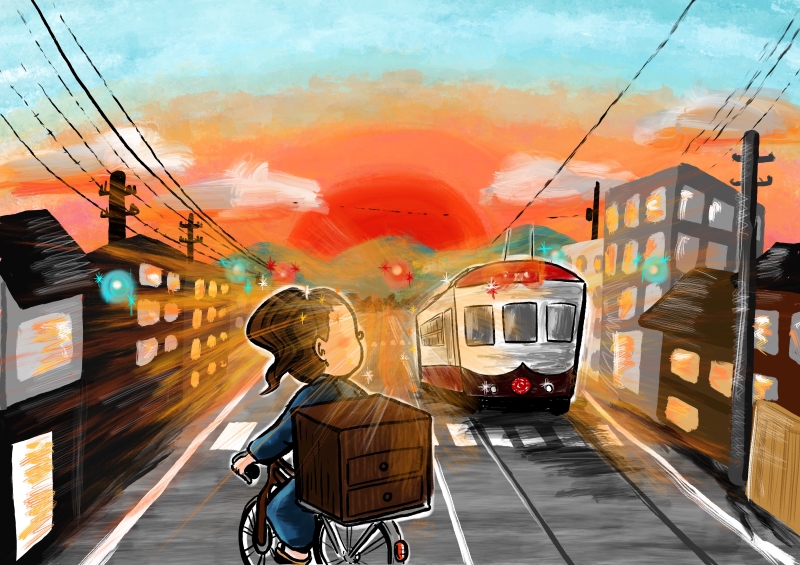 。・:*:・゚★,。・:*:・゚☆Kamishibai January Schedule・:*:・゚★,。・:*:・゚☆
5 (Sun.) Danmaru
6 (Mon.) Rakkyomu
7 (Tue.) Ikkyu
8 (Wed.) closure
9 (Thu.) Danmaru
10 (Fri.) Danmaru
11 (Sat.) Rakkyomu
12 (Sun.) Ikkyu
13 (Mon.) Danmaru
19 (Sun.) Rakkyomu
20 (Mon.) Danmaru
21 (Tue.) Ikkyu
22 (Wed.) closure
23 (Thu.) Ikkyu
24 (Fri.) Rakkyomu
25 (Sat.) Ikkyu
26 (Sun.) Danmaru
27 (Mon.) Rakkyomu
28 (Tue.) Danmaru
29 (Wed.) closure
30 (Thu.) Rakkyomu
31 (Fri.) Rakkyomu
---
On my way back to home in a sunset.
There are sleepy faces I can see in streetcars each morning.
The faces turn into tired faces in the end of each day.
Clank-clang, clickety-clack.
One office working man is looking out of a window of a slowly running streetcar.
Well, I saw him before.
He looks exhausted yet cool at the same time as wearing his tie tight.
Well done.
Does he stop by for a drink at somewhere calld their "favorite"?
Perhaps he just goes home and drinks, or no drink at all.
Somehow I imagine…
if I were not in the way I'm on today.
Or, if I were a person looking good in a nice suits.
Could I work properly?
Could I aquire how to wear ties?
Could I wear my suits without making wrinkle?
Could I speak correct polite phrases?
Could I get along with bosses?
Or, could I appropriately instruct new coworkers?
It sounds a hard way to live, but if I could work with pride and live for work, I imagine a can of beer I might drink in the end of a day tastes delicious. I don't drink beer so much, though.
After my real work, my heart excitedly pounces a little with my growing delusion of myself on the streetcar and having a completely different life.
Even this sounds nice, I can see me in this situation would start dreaming of a life which stays outside of the streetcar window in a year… no… a month or less.
I would think…
if there were another way to live,
I I could live more freely.
Then I would find out the way I am today.
There's no boss who scolds me.
There's no tie, suits, nor shiny a pair of shoes.
There's no arranged time to start and end working, nor punching in and out.
Everything in my life is controlled by myself.
Freedom? No way.
My life is tied up by myself.
An unknown way that nobody has never walked before me.
This is the way of Kamishibai.
Looking at the setting sun and think back what happen in a day.
I faced to many people and their childful mind thousands times.
Although I feel like I reached the goal,
it goes farther in a flash, and I notice that I still got to run toward it as I'm in the way of Kamishibai.
Children and adults, grandpa and grandma, and of course people from around the world.
How can I grab people's mind, heart and soul which stays at somewhere nobody knows?
I'd like to see the view ahead a little bit more by living in this way.
I don't say that I don't want to be an office worker.
I say that my life doesn't let me be an office worker.
Let's live my life this time in this way.
If I wish to have the same kind of life when this life is about to end, I will choose to have the same one as I'm reincarnated, perhaps.
(Danmaru)