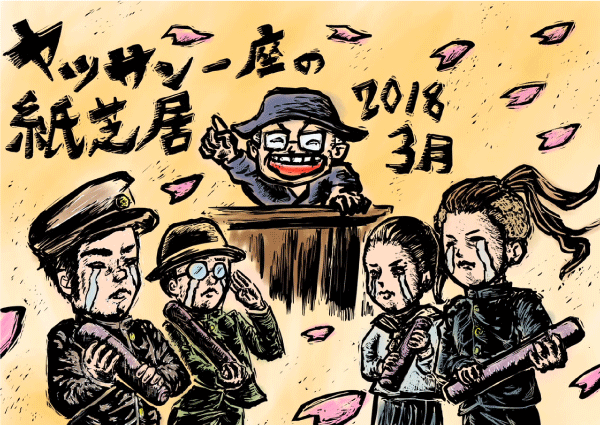 。・:*:・゚★,。・:*:・゚☆Kamishibai March Schedule・:*:・゚★,。・:*:・゚☆
1(Thu.) Rakkyomu 
2(Fri.) Ikkyu  
3
(Sat.)
Ikkyu  
4
(Sun.)
Danmaru
5(Mon.) Danmaru
6(Tue.) Rakkyomu
8(Thu.)  Ikkyu  
9(Fri.)  Ikkyu
10
(Sat.)
Rakkyomu
11
(Sun.)
  Ikkyu
12(Mon.)  Ikkyu
13(Tue.)  Danmaru
15(Thu.) Rakkyomu
16(Fri.) Ikkyu
17
(Sat.)
Danmaru
18
(Sun.)
Rakkyomu
19(Mon.)  Ikkyu
20(Tue.)  Rakkyomu
21
(Wed.) 
Danmaru
23(Fri.) Rakkyomu
24
(Sat.)
Ikkyu
25
(Sun.)
Rakkyomu
26(Mon.) Ikkyu
27(Tue.) Danmaru
29(Thu.) Rakkyomu
30(Fri.) Danmaru
31
(Sat.)
Danmaru
---
March.  A graduation season.
Between March and April, there are so many reaction be heard from children when I ask them "what grade are you in?"
"I suppose I'm in 1st grade of junior high since a graduation ceremony is over."
"Well, I think I'm still a 5th grader, I guess…."
"I'm gonna enter an elementary shoool soon!!"
Those innocent kind of words tickle me.
Mixed feeling of anxiety and joy toward own certain step-ups comes with Spring.
Do adults still feel that?
Kamishibaists are always kamishibaists.  
There's no head or manager, so those kind of feelings are something I might missed.
Even so, I keep growing uo and moving on.
I don't wait for Spring to come.  Making progress with my own foots.
There are different people outside of schools and so many ways of living.
If you recall of us when you are stuck, that make our day.
B4 size of picture-stories and everybody's own life-stories get together at our Kamishibai hut.
See you soon at there.
(Rakkyomu)