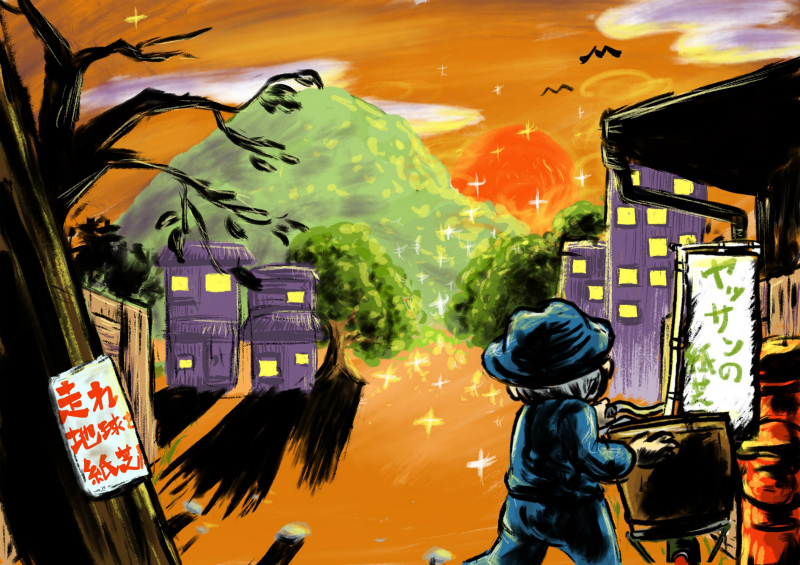 。・:*:・゚★,。・:*:・゚☆Kamishibai November Schedule・:*:・゚★,。・:*:・゚☆
1(Thu.) Rakkyomu  
2(Fri.) Ikkyu
5(Mon.) Rakkyomu
6(Tue.) Ikkyu
12(Mon.) Ikkyu
13(Tue.) Ikkyu
15(Thu.) Ikkyu
16(Fri.) Danmaru
19(Mon.) Rakkyomu
20(Tue.) Rakkyomu
22(Thu.) Ikkyu
23
(Fri.)
 Danmaru(first 2 performances), Rakkyomu (last performance)
26(Mon.) Ikkyu
27(Tue.) Danmaru
29(Thu.) Rakkyomu
30(Fri.) Danmaru
---
The sun has so many names to be called.
Such as
"Rising sun" ,as it goes up,
and "Setting sun", as it goes down.
Both is very beautiful.
Moreover, the views over the rising and the setting sun must be amazing.
Kamishibai storytellers went toward the setting sun to return home.
Yassan went over the sunset riding on his bicycle.
There are views which he could and couldn't see.
Perhaps we can see both kind of view because we live today.
The views many Kamishibai storytellers have seen in the past.
They are opened not only for today's Kamishibai storytellers, but also for all people with their child-like mind in them.
What do you think might be waiting in and out of the Kamishibai hut's world which keeps growing?
(Ikkyu)