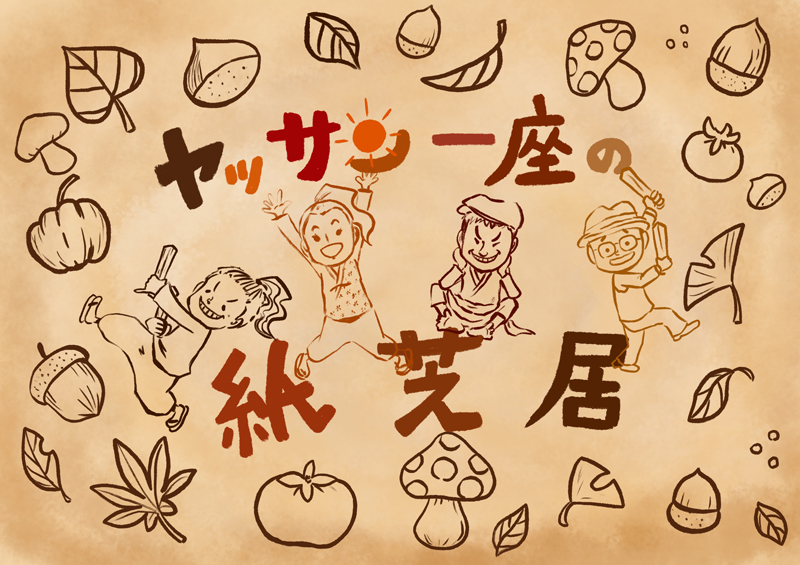 。・:*:・゚★,。・:*:・゚☆Kamishibai November Schedule・:*:・゚★,。・:*:・゚☆
1 (Fri.) Danmaru
2 (Sat.) Ikkyu
36 (Sun.) Rakkyomu
4 (Mon.) Rakkyomu
5 (Tue.) Ikkyu
6 (Wed.) closure
7 (Thu.) Rakkyomu
8 (Fri.) Ikkyu
9 (Sat.) Ikkyu
10 (Sun.) Danmaru
11 (Mon.) Danmaru
12 (Tue.) Rakkyomu
13 (Wed.) closure
14 (Thu.) Rakkyomu
15 (Fri.) Ikkyu
16 (Sat.) Ikkyu
17 (Sun.) Danmaru
18 (Mon.) Rakkyomu
19 (Tue.) Danmaru
20 (Wed.) closure
21 (Thu.) Ikkyu
22 (Fri.) Ikkyu
23 (Sat.) Ikkyu
24 (Sun.) Rakkyomu
25 (Mon.) Danmaru
26 (Tue.) Ikkyu
27 (Wed.) closure
28 (Thu.) Rakkyomu
29 (Fri.) Rakkyomu
30 (Sat.) Danmaru
---
Clapping a pair of wooden clapper and walk around the museum.
When I go up and down staircases, I think of my master, Yassan, whether he was walking the right side or left side.
Here at manga museum, Yassan had spent his time for Kamishibai the most in his 40 years of his Kamishibai life, perhaps.
It means he had clapped the wooden clappers the most at here as well.
When the museum was born, I heard that Kamishibai was performed 8 times a day at most.
Walking right or left.
My answer for now is the middle.
It's easy to go right and left to avoid bumping into people passing by.
As long as I see none in front of me or back, I take the middle.
Going out to the schoolyard and shout out loud
"It's time for Kamishibai!"
I feel my voice goes far away and away when the rain stops.
High up the sky, I know Yassan is doing his Kamishibai at the place I don't know yet.
I'm writing this right before Kamishibai,
so It's my time of Kamishibai.
I'm so blessed to have this.
So much appreciation to him.
This is a greeting to my master.
I wish it reaches him.
(Danmaru)