It's the Director here.
It's hot. Normally it's hot in Kyoto, but this year it's stupidly hot, and strange natural disasters seem to be happening all over the place.
It's good to take it easy as much as possible on hot days, so it's good to come to the Manga Museum and enjoy 'scary manga'.
Huh! Scary manga?
I hear you say. Well, that makes me suddenly go down to the basement archives. That is, to check that all the scary manga are in order, of course.
So, the usual suspects like Mizuki Shigeru's yokai (spirits) manga and Umezu Kazuo's bizarre ghost manga will always be there. But unexpectedly I found manga that I remembered from having read them in rental bookstores around the Showa 30s (1955~).
The Showa 30s children like me who were part of the postwar baby-boomer generation really got into manga and anime because around that time there weren't any TVs or advanced electrical appliances like game consoles or air conditioners.
That's why so many scary manga books were drawn for all the postwar children. Afterall, the movie theatres were showing ghost story films day and night, so 'scary' stories were hugely popular in manga as well.
And yet when I look at these manga anew, there are many rare items. Firstly, the titles are horribly awesome, to the point that I think could there really be titles like this? There's a lot of things that make me doubt my own eyes.
But in spite of that, the contents aren't serious. The stories feel a bit childish and the pictures are shabby. The images of the yokai are a bit ordinary.
This is because they were made in an era before genius artists like Mizuki Shigeru and Umezu Kazuo, who had a keen sense about yokai. So, it was all just local neighborhood ghosts like one-eyed monsters and karakasa (old umbrellas that have turned into ghosts).
But I thought, wait a minute! This would be pretty interesting for present-day children. So, we've put together a collection for the 'Treasure Trove MANGA-ful' display in the corridor outside the director's office which will open on the 5th of August. For our summer collection I've tried putting together a trove of scary MANGA-ful. It's fun and powerful kappa (water spirit) and other manga that were drawn before the time of Mizuki Shigeru. Please come by to take a look.
Another thing, we'll also hold a 'Children's Yokai Classroom' for elementary and junior high school students again. It was popular last year, and this time we'll have even more fun. We may even get to show you 'living yokai' that you'll be able to catch. After learning how to catch them in the classroom, kids and their parents can go out hunting together. You can find yokai even when it's not midnight.
Then in the classroom we'll ask everyone to draw a picture of their own imagined yokai, and we'll make a museum collection of original yokai manga. Everyone who thinks of a good one will get a souvenir. At the dawn of spring the ghosts will spring out!
Please come to the Manga Museum this summer to have fun playing with ghosts.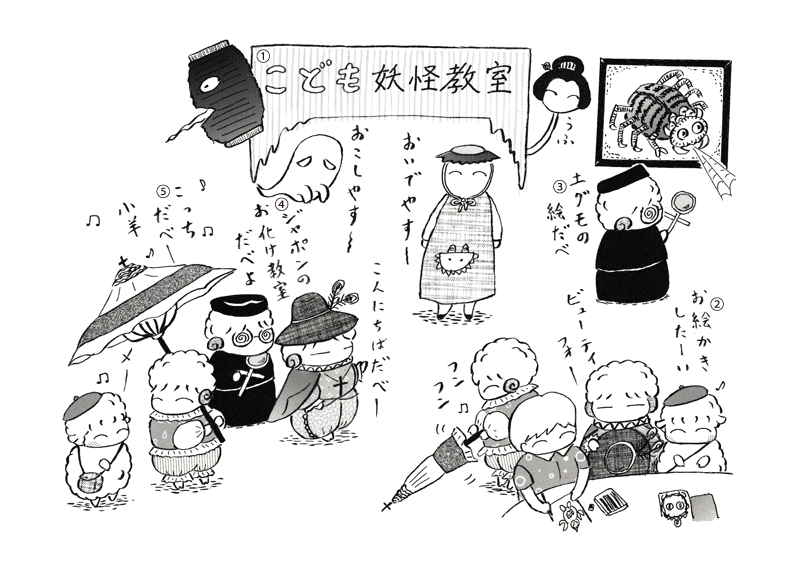 ①Children's Yokai Classroom ②I wanna draaaw! ③It's a spider-spirit. ④It's the Japanese ghost classroom. ⑤Here it is.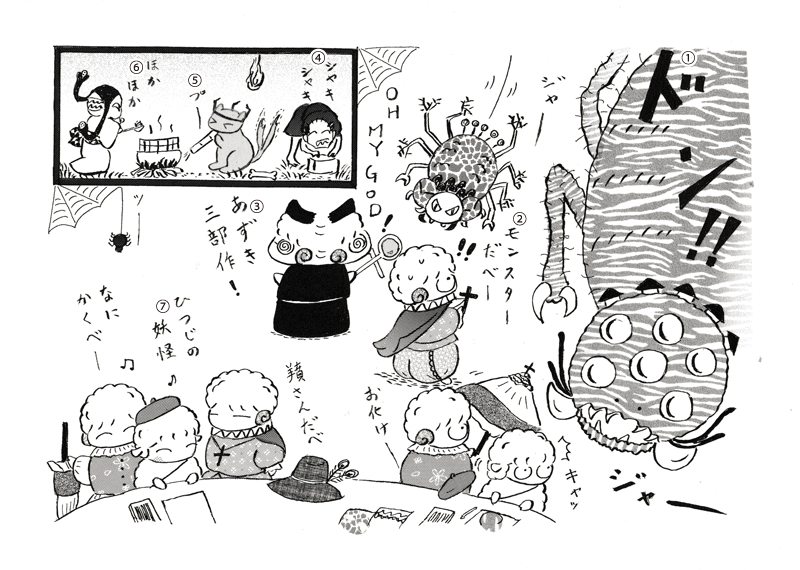 ①Bam!! ②It's a monster! ③Ghosts grinding azuki beans! ④Swish, rattle ⑤Woosh ⑥Murmur ⑦I'll draw ghost sheep.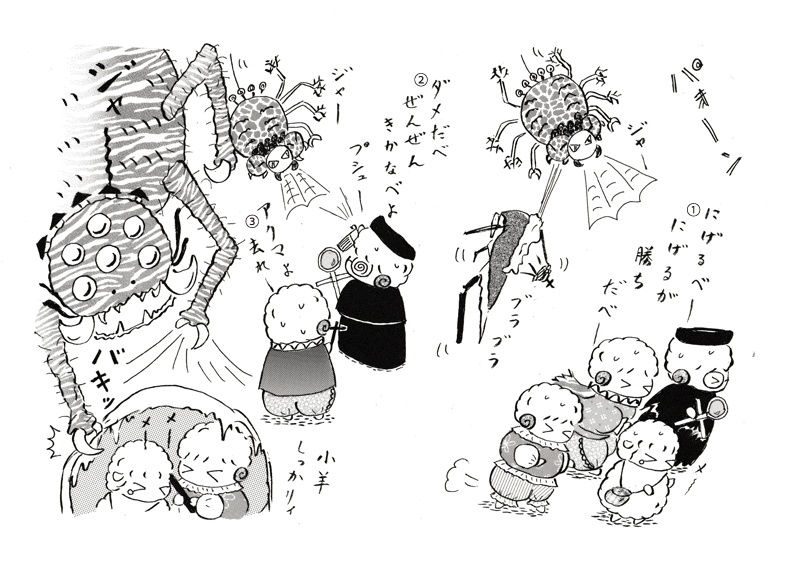 ①Running away is the way to win. ②Nope, it's completely useless. ③Go away demon!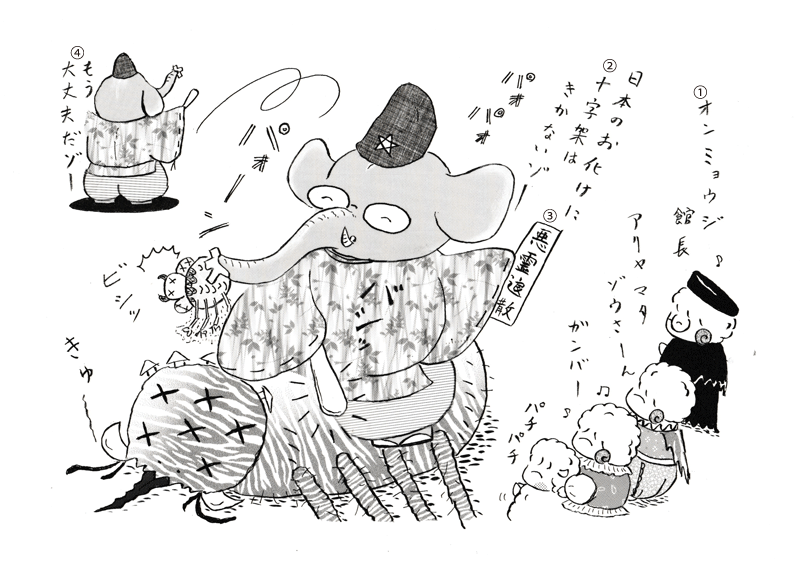 ①Director Exorcist ②Japanese ghosts aren't affected by crosses. ③Ward off evil spirits ④It's alright now.
(Illustration: Benoji)
---
Previous articles are here