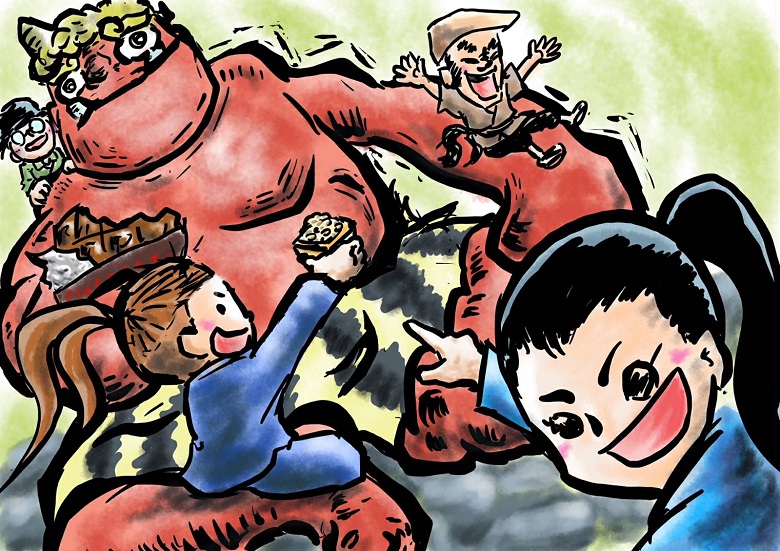 。・:*:・゚★,。・:*:・゚☆Kamishibai February Schedule・:*:・゚★,。・:*:・゚☆
1(Thu.) Danmaru
2(Fri.) Rakkyomu
3(Sat.) Ikkyu
4(Sun.) Rakkyomu
5(Mon.) Rakkyomu
6(Tue.) Danmaru
8(Thu.) Rakkyomu
9(Fri.) Ikkyu
10(Sat.) Danmaru
11(Sun.) Danmaru
12(Mon.) Ikkyu
13(Tue.) Ikkyu
15(Thu.) Danmaru
16(Fri.) Ikkyu
17(Sat.) Ikkyu
18(Sun.) Danmaru
19(Mon.) Rakkyomu
20(Tue.) Ikkyu
22(Thu.) Danmaru
23(Fri.) Ikkyu(11:30-)/ Danmaru(14:00-)
24(Sat.) Rakkyomu
25(Sun.) Rakkyomu
26(Mon.) Danmaru
27(Tue.) Rakkyomu
---
Huge and sharp teeth.
Favorite is a loud pattern.
Curly hair with horns on top of their heads.
These people are called "Oni", Japanese demons.
They are bad people in many Japanese bedtime stories.
They are unwelcomed at many houses.
Bad and scary are their impressions many people have.
Poor Oni.
If we have chance to talk with Oni, they must be so kind,
or fun and interesting, perhaps.
A light in the dark.
It make me relieved.
Prejudice make the light obscured.
Children should be like this.
Adult should be like that.
Only that person thinks so.
Having these thoughts can be pity. 
All people, animal and Oni can get together and laugh. 
Hahaha!!
This is where we are, a Kamishibai hut.
Still cold weather stays.
Don't be frozen!!
We are always waiting for your coming. 
(Ikkyu)