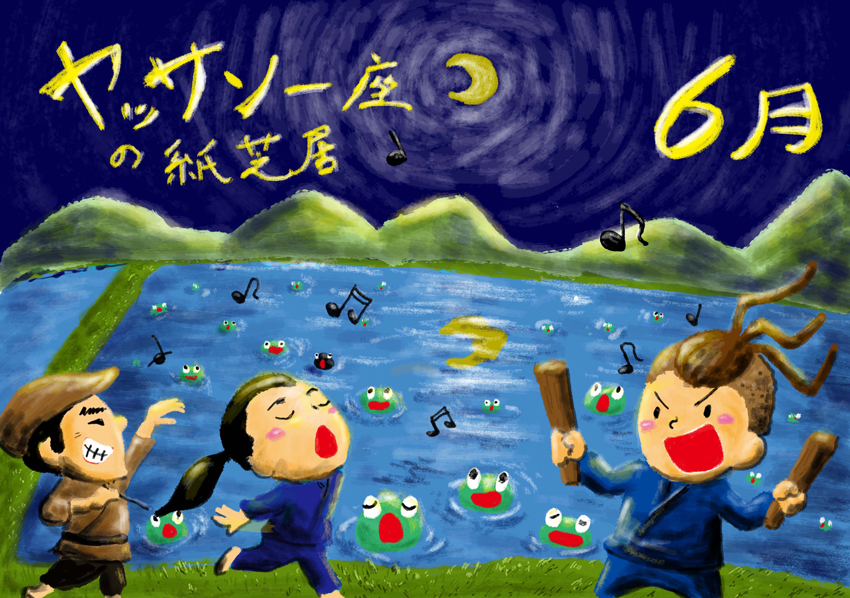 。・:*:・゚★,。・:*:・゚☆Kamishibai June Schedule・:*:・゚★,。・:*:・゚☆
1(Thu.) Danmaru 
2(Fri.) Rakkyomu
3
(Sat.) 
Ikkyu
4
(Sun.) 
Danmaru
5(Mon.) Danmaru
6(Tue.) Ikkyu
8(Tue.) Danmaru
9(Fri.) Rakkyomu
10
(Sat.) 
Rakkyomu
11
(Sun.) 
Ikkyu
12(Mon.) Ikkyu
13(Tue.) Danmaru
15(Thu.) Rakkyomu
16(Fri.) Danmaru
17
(Sat.) 
Ikkyu
18
(Sun.) 
Rakkyomu
19(Mon.) Rakkyomu
20(Tue.) Danmaru
22(Thu.) Ikkyu
23(Fri.) Ikkyu
24
(Sat.) 
Rakkyomu
25
(Sun.) 
Danmaru 
26(Mon.) Rakkyomu 
27(Tue.) Danmaru
29(Thu.) Ikkyu
30(Fri.) Rakkyomu
---
The Kamishibai room was overflowing
during early May's long holiday.
It is our great pleasure if we could deliver enjoyment in Kamishibai
to as many people as possible.
Do we pull people in the world of Kamishibai
or people come in by themselves?
It must be both to happen in Kamishibai.
As children who meet for the first time can play together
before asking each other's name,
Kamishibaists (Kamishibai performers) pull children and adults who meet for the first time
in the world of stories and laugh together.
Usually, we try making people laugh,
but sometimes, they make us laugh.
Let this circle of people be bigger!!
To make this happened, we jump out of the Kamishibai room
to the outside lawn for Kamishibai once a month started in April.
The outside Kamishibai looks different.
Not only Kamishibai lovers who come into the Kamishibai room,
but also relaxing families and making out couples gradually come closer.
In the end, all of them laugh together with opening mouths.
Sending laughter high up to the sky has a different taste
from laugh-heat of the Kamishibai room.
The next Kamishibai outside lawn will be
on June 10 (if it's sunny).
Come and join Kamishibai under the beautiful blue sky.
(Rakkyomu)