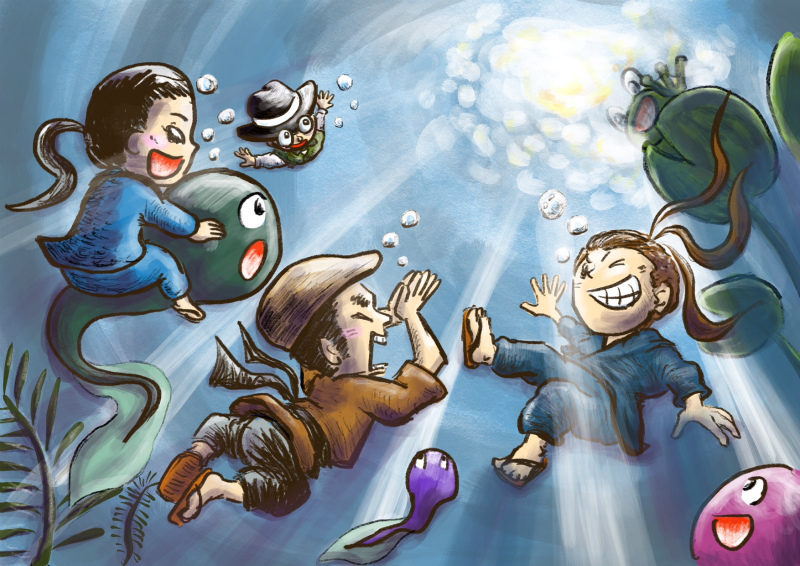 。・:*:・゚★,。・:*:・゚☆Kamishibai June Schedule・:*:・゚★,。・:*:・゚☆
1 (Fri.) Rakkyomu
2
(Sat.)
Ikkyu
3
(Sun.)
Danmaru
4 (Mon.) Ikkyu
9
(Sat.)
Rakkyomu
10
(Sun.)
Rakkyomu
11 (Mon.) Danmaru
12 (Tue.) Ikkyu
14 (Thu.) Danmaru
15 (Fri.) Rakkyomu
16
(Sat.)
Rakkyomu
17
(Sun.)
Ikkyu
18 (Mon.) Danmaru
19 (Tue.) Ikkyu
21 (Thu.) Rakkyomu
22 (Fri.) Ikkyu
23
(Sat.)
Ikkyu
24
(Sun.)
Danmaru
25 (Mon.) Danmaru
26 (Tue.) Rakkyomu
28 (Thu.) Ikkyu
29 (Fri.) Rakkyomu
30
(Sat.)
Danmaru
---
Children are into chasing exciting things within a radius of 2 meters from them.
Cicadas, dragonflies, mangas,video games and others are in the 2-meter radius.
As they grow up into adults, their viewpoints seem to get wider.
The paddy fields were just tadpole-hunt fields as I was a child, but the fields are night concert halls of frogs' choir for me now.
Perhaps, all because of having childhood time of chasing exciting things with no doubt, it became possible today to enjoy the frogs' choir and the twilight sky of everyday.
The children, who are masters of enjoying things within 2-meter radius, come and see Kamishibai.
If we can't enjoy children's world, we are no longer Kamishibai performers.
Sometimes, we want to be more childish adults than children.
Like a pleasure of looking for tadpoles, being struck by the beauty of twilight sky, 
and thrilled by frogs hopping inside of hands and laughing at that, 
there are so much these kind of moment in Kamishibai that we hope you to enjoy.  
(Rakkyomu)