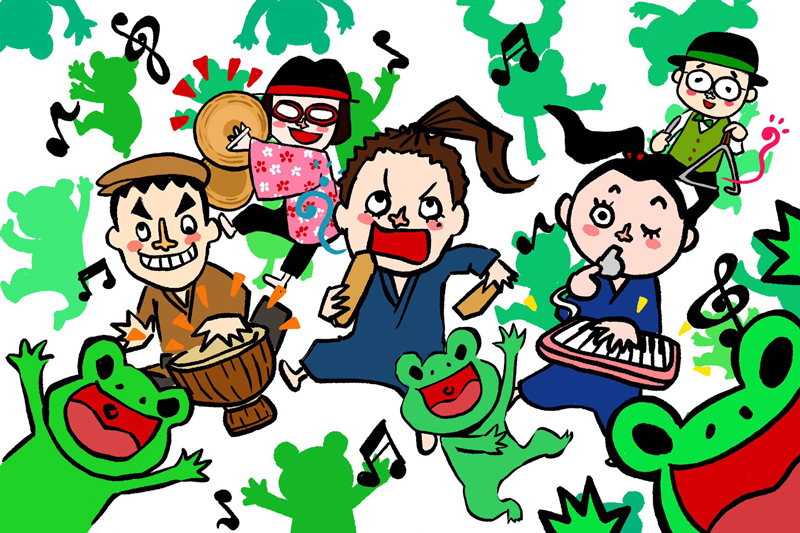 。・:*:・゚★,。・:*:・゚☆Kamishibai June Schedule・:*:・゚★,。・:*:・゚☆
1 (Sat.) Rakkyomu
2 (Sun.) Ikkyu
3 (Mon.) Ikkyu
4 (Tue.) Danmaru
6 (Thu.) Ikkyu
7 (Fri.) Rakkyomu
8 (Sat.) Ikkyu
9 (Sun.) Ikkyu
10 (Mon.) Rakkyomu
14 (Fri.) Rakkyomu
15 (Sat.) Rakkyomu
16 (Sun.) Danmaru
17 (Mon.) Danmaru
18 (Tue.) Ikkyu
20 (Thu.) Danmaru
21 (Fri.) Rakkyomu
22 (Sat.) Ikkyu
23 (Sun.) Ikkyu
24 (Mon.) Danmaru
25 (Tue.) Rakkyomu
27 (Thu.) Ikkyu
28 (Fri.) Danmaru
29 (Sat.) Ikkyu
30 (Sun.) Rakkyomu
---
Here comes little froggy's  song♪
New grade seems to fit on me.
However the new era's name doesn't ring the bell for me yet.
I take a rest, but don't settle down.  New year and new era are finally here.  I'd like to make my heart shine as new all the time to grow up. 
There are 48 apprentices of Master Yassan.  Sadly, most of them think they could go over him, but not yet.
He was so great and that is the true color we are always seeking for  even he stays at somewhere far from us now.
Having a fireplace-meeting with passionated 10 members.  I see master staying in each of them.
To live long, poeple tend to say too many excuses.  Is it because of old age?
Are you sure you could do what you can't do now if you were young?
 Master left a word from a calendar of a poet, Mitsuo Aida. 
"Couldn't do it.  Didn't do it.  Which is right?"
The answer is both.  Even you can make excuses, there's another you watching yourself.
From the end of March, a new apprentice started challenging Kamishibai here at manga museum's Kamishibai hut.
Her name is "Haruru" .
She does Kamishibai at so many places, but this museum is different from any other places.
So many people comes even from oversea, of course.  This stage is so difficult to stand.
Once a week, Haruru stands here with her hidden beating heart.
After regular Kamishibais, her special Kamishibai time comes with no notice.  She will start standing regularly this summer.
She reminds me to remember the importance of beginner days and mind, and how happy it is to do Kamishibai all the time again.
Do not take all Kamishibai, all smile and all clapping for granted, learn from Haruru, try to grow like children and keep moving on!
(Danmaru)