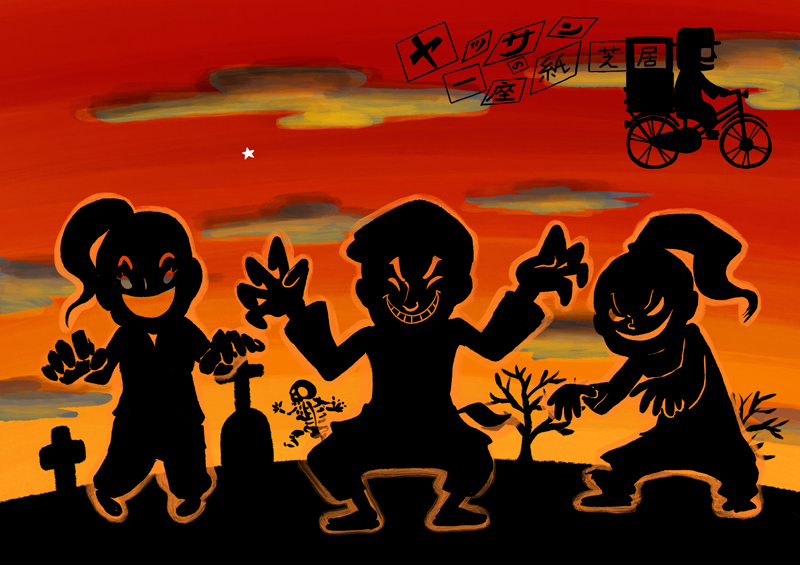 。・:*:・゚★,。・:*:・゚☆Kamishibai October Schedule・:*:・゚★,。・:*:・゚☆
1 (Tue.) Danmaru
2 (Wed.) closure
3 (Thu) Rakkyomu
4 (Fri.) Danmaru
5 (Sat.) Rakkyomu
6 (Sun.) Ikkyu
7 (Mon.) Ikkyu
8 (Tue.) Danmaru
9 (Wed.) closure
10 (Thu) Rakkyomu
11 (Fri.) Danmaru
12 (Sat.) Ikkyu
13 (Sun.) Ikkyu
14 (Mon.) Rakkyomu
15 (Tue.) Ikkyu
16 (Wed.) closure
17 (Thu) Rakkyomu
18 (Fri.) Danmaru
19 (Sat.) Ikkyu
20 (Sun.) Danmaru
21 (Mon.) Danmaru
22 (Tue.) Ikkyu
23 (Wed.) closure
24 (Thu) Rakkyomu
25 (Fri.) Danmaru
26 (Sat.) Ikkyu
27 (Sun.) Rakkyomu
28 (Mon.) Danmaru
29 (Tue.) Ikkyu
30 (Wed.) closure
31 (Thu) Rakkyomu
---
Trick or treat!!!
Halloween is so popular these days in Japan even its real meaning is not well-known.
The magical phrase let adults give some snacks to children.
Many kinds of snacks came out of a box back of a Kamishibai bicycle.
To get them, children holding 5-yen or 10-yen coins in their hands gathered around.
"What shall I get??"
Children in line thought like this with their hearts beat fast in excitement.
With those snacks in hands and mouths,
everybody got together, laughed together and enjoyed watching Kamishibai.
But some children were in line without money because their parents didn't give it.
Kamishibai men in the old days were not sweet like sweets.
They ignored those children.
It is said that those ignored children really wanted to watch Kamishibai, so they climbed up to the higher place to see from a bit far away from the crowd.
Today, we, Yassan-ichiza, still have candies.
Different from the old days, whether you have candy or not,
anybody can freely come, join and watch Kamishibai.
Many children and adults from everywhere around the world
get together and laugh WAAAAHAAAAHAAAA!!!!!
"Trick or treat!"
is not a magical phrase at Kamishibai,
but you have chance to enjoy the treat of Kamishibai
as well as the show of Kamishibai♪
(Ikkyu)