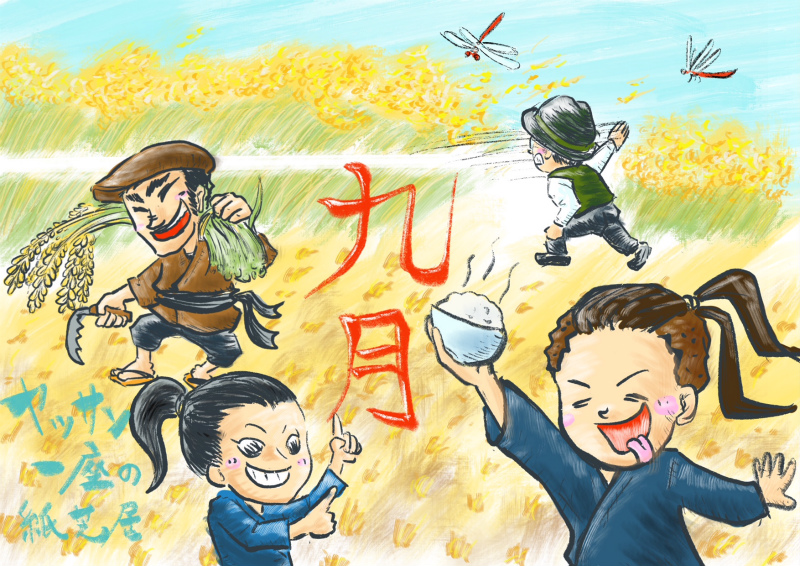 。・:*:・゚★,。・:*:・゚☆Kamishibai September Schedule・:*:・゚★,。・:*:・゚☆
1(Sat.) Rakkyomu
2(Sun.) Ikkyu
3(Mon.) Ikkyu
4(Tue.) Ikkyu
6(Thu.) Rakkyomu
7(Fri.) Rakkyomu
8(Sat.) Ikkyu
9(Sun.) Rakkyomu
10(Mon.) Ikkyu
11(Tue.) Ikkyu
13(Thu.) Danmaru
14(Fri.) Rakkyomu
15(Sat.) Ikkyu
16(Sun.) Rakkyomu
17(Mon.) Danmaru
18(Tue.) Danmaru
20(Thu.) Rakkyomu
21(Fri.) Ikkyu
22(Sat.) Ikkyu
23(Sun.) Danmaru
24(Mon.) Rakkyomu
25(Tue.) Danmaru
27(Thu.)Rakkyomu
28(Fri.) Ikkyu
29(Sat.) Ikkyu
30(Sun.)Danmaru
---
This summer's too hot climate seems to come to the end.
Not only the crazy heat, but also the heavy rain in every week at somewhere in Japan made us always be aware.
Is 4 billion-600 million-year-old Earth at a rebellious age, or in bad health and having fever?
Or the Earth might be heading to its own good shape, and we, human, are the only ones who think from our "norm" that recent climate changes are too crazy.
Even the science keeps developing, and even saying words like "climate change" seems so cool, it is a fate of human to face to the earth and the sun.
The Earth changes, and people change.
During Kamishibai, we enjoy changes in people.
In 30-minute-Kamishibai, everyone see each others' humanity.
Children get so vigorous and go home.
It is so happy to see those scenes today and tomorrow.
(Rakkyomu)