Why don't you get your portrait done at the MM?
The artists will draw and talk to you in person!

Please come to Million Smile for your memory of visit!
[Seeptember]
1 (Sat) Horiguchi itsu
2 (Sun) Horiguchi itsu/Higashino Emiko
3 (Mon) Higashino Emiko
4 (Tue) Kasumin
6 (Thu) Kasumin
7 (Fri) Okayama
8 (Sat) Horiguchi itsu
9 (Sun) Kasumin/Higashino Emiko
10 (Mon) Horiguchi itsu
11 (Tue) Kasumin
13 (Thu) Okayama
14 (Fri) Okayama
15 (Sat) Kasumin/Okayama
16 (Sun) Horiguchi itsu/Higashino Emiko
17 (Mon Holiday) Kasumin
18 (Tue) Okayama
20 (Thu) Okayama
21 (Fri) Okayama
22 (Sat) Kasumin/Higashino Emiko
23 (Sun) Okayama/Higashino Emiko
24 (Mon Holiday) Kasumin/Higashino Emiko
25 (Tue) Okayama
27 (Thu) Higashino Emiko
28 (Fri) Okayama
29 (Sat) Horiguchi itsu/Higashino Emiko
30 (Sun) Horiguchi itsu/Kasumin
---
Hello! I am itsu from portrait team!
Are you enjoying summer?
Because it's busy period I haven't been able to do much so I've been thinking about what I do when the period is over.
The thing I am most looking forward to is the motorbike touring.
Now I have new 110cc so I look at the custom parts a lot online.
I ride my bike daily but I haven't done much touring for this decade that I've been riding apart from the two solo touring I did.
I would love to do it with someone who knows a lot about bike so I can learn too!
Anyone who loves bike…. visit me at the museum!!
I also had something that made me very happy.
I used to draw portrait at the place called Takanohara and someone who visited me many times came to see me at the museum.
I actually couldn't remember as it was long time ago, but when she showed me the photo of portrait my memory suddenly came back and I remembered the mum and boy.
She found me on TV and decided to visit me at the museum…!
Her sun couldn't visit me this time but it's at least been 10 years so he must be high school student now.
I really wish that I can meet him again too!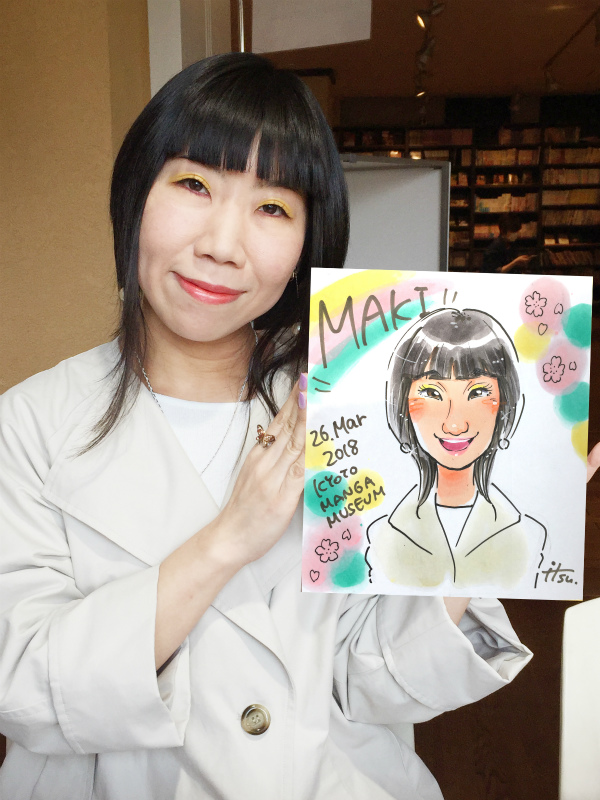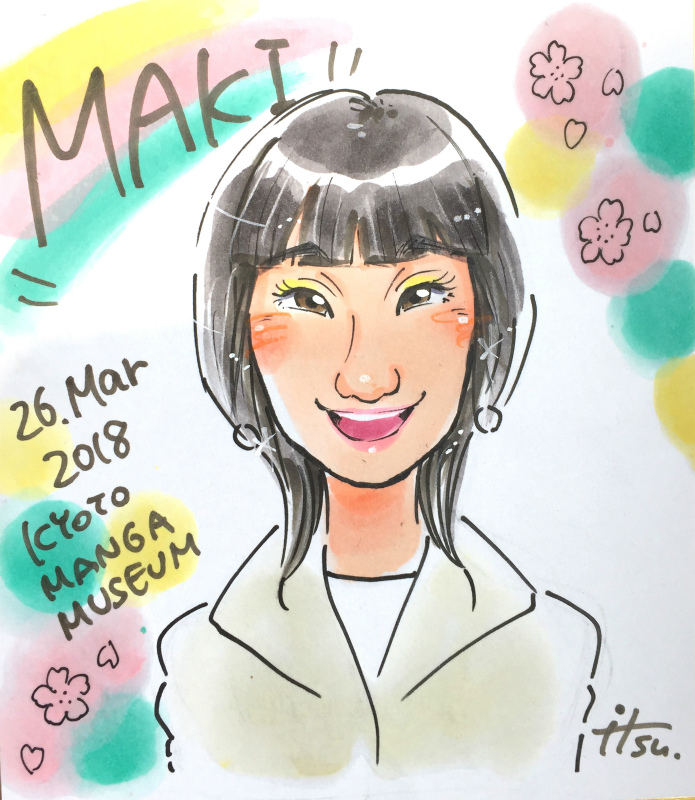 (Horiguchi itsu)