☆Manga Studio Artist Schedule☆
[March]
4 (Sat.) Kojima
5 (Sun.) Kojima/Noda
11(Sat.) Kojima
12 (Sun.) Kojima/Noda 
18(Sat.) Kojima/Noda
19 (Sun.)  Kojima/Noda
20 (Mon. Holiday) Kojima/Noda
25(Sat.) Kojima
26 (Sun.) Kojima/Noda
---
Hello!
This is Noda from Manga Studio.
The sun stays longer compare to before now I can feel the spring.
You can see us draw closely at the manga studio. You can see illustration, manga or the story making depending on what we do but if you have something you want to see specifically please talk to us!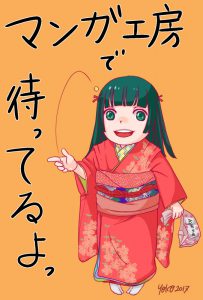 (Noda)