Why don't you get your portrait done at the MM?
The artists will draw and talk to you in person!

Please come to Million Smile for your memory of visit!
【March】
3 (Fri.) Okayama
4 (Sat.) Horiguchi itsu
5 (Sun.) Kasumin / Higashino Emiko
10 (Fri.) Kasumin
11 (Sat.) Okayama 
12 (Sun.) Okayama / Horiguchi itsu
17 (Fri.) Higashino Emiko 
18 (Sat.) Kasumin
19 (Sun.) Horiguchi itsu / Kasumin
20 (Mon. Holiday) Horiguchi itsu
24 (Fri.) Horiguchi itsu  
25 (Sat.) Higashino Emiko 
26 (Sun.) Okayama / Higashino Emiko 
27 (Mon.) Okayama
28 (Tue.) Kasumin
30 (Thu.) Higashino Emiko
31 (Fri.) Kasumin
---
Japanese school year ends in the March, yes, it's nearly the end of the year!
Sad to say good bye to your familiar days but then you can open the door to the new stage!
If you are sending off somebody why not make a portrait of the person?
We can draw from the photos with extra cost of 1,000 yen/person on top of usual portrait fee so please come and ask us!
We will be open everyday throughout the spring holiday (March 25th to April 6th)!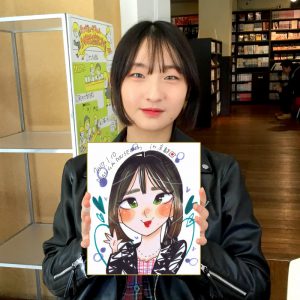 (Okayama)