Why don't you get your portrait done at the MM?
The artists will draw and talk to you in person!

Please come to Million Smile for your memory of visit!
【June】
2 (Fri.) Higashino Emiko
3 (Sat.) Kasumin
4 (Sun.) Kasumin / Higashino Emiko
9 (Fri.) Kasumin
10 (Sat.) Higashino Emiko
11 (Sun.) Okayama / Horiguchi itsu
16 (Fri.) Okayama
17 (Sat.) Horiguchi itsu
18 (Sun.) Kasumin / Okayama
23 (Fri.) Horiguchi itsu
24 (Sat.) Okayama
25 (Sun.) Horiguchi itsu / Higashino Emiko
30 (Fri.) Horiguchi itsu
---
Hello! I am Horiguchi itsu who's been into American TV series recently!
I started learning English a few years ago to be able to communicate more with the guests from overseas.
But I don't like studying so I "study" by listening to English by watching TV dramas and youtube.
I've just finished first season of "Ally Mcbeal"…so what's next?!
I've been having more and more repeaters these years. I am surprised how kids grow up.
This sister had matching cloth on. How cute!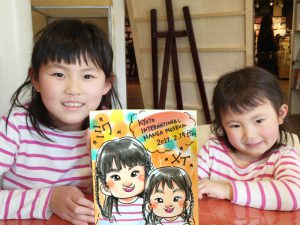 They lived in Japan for work but they are leaving. They visited me once more before they were leaving and made me very happy by telling me about my English improvement!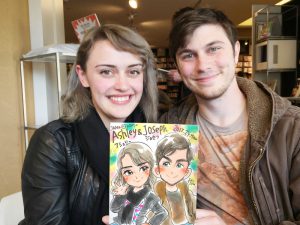 They currently live overseas but they visit me every time when they come back.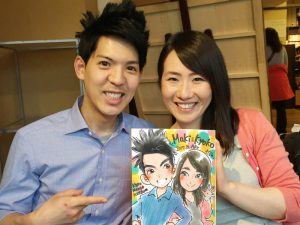 I meet many people by doing portrait but mostly only once.
But, of course there are  people come back after a few years.
I appreciate every opportunities of meeting people one by one!
(Horiguchi itsu)