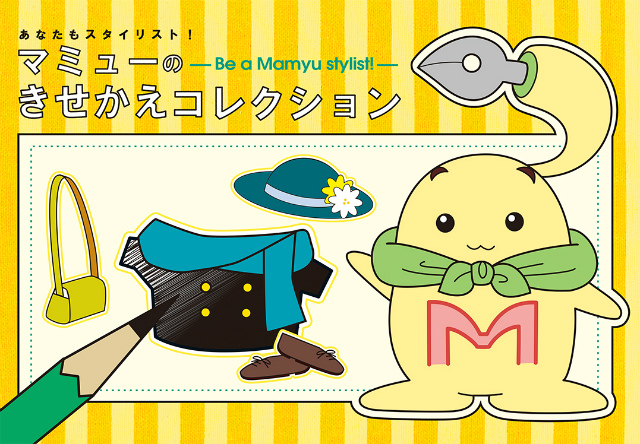 It's nearly the end of October.
Time really fries… How are you these days? I am Sakata from workshop.
What do you think about when you hear the word autumn? Food, sport, art and reading… I think about fashion! I really enjoy myself being different from usual so I am trying to do autumn fashion.
This autumn is a special for Manga Museum too. We are having 10th anniversary this year on the Nov. 25th. The events have been planned so we are holding a workshop "Be a Mamyu's stylist!" which started from Oct. 1st to cerebrate his birthday with special fashion.
At this workshop you can draw your original Mamyu with the fashion. Let me share the pieces of participants!!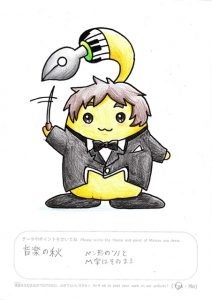 So let's begin with this piece!!
Musical autumn!! Mamyu became an orchestra conductor! Looking at the detail you can see piano keyboard on his pen.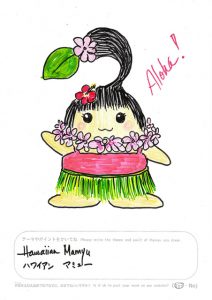 Next one is a Hawaiian Mamyu!! So flowery and cute! He's even saying "ALOHA!".
I hope Mamyu can show you hula dance one day…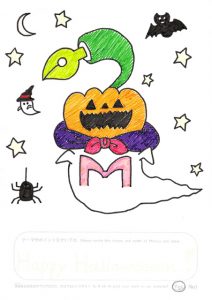 Then this unique design. Is this Mamyu…? Yes it is!
With Mamyu's element being left this is a high quality styling. The design is very Halloween, even bat and spider are around♡♡♡
Thank you so much for dressing Mamyu up! More works are shown at the workshop area at the museum so please check if you visit us!!
Also Mamyu is going to visit workshop!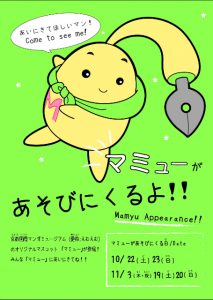 Mamyu is coming on,
【Date】Nov. 3, 19 and 20
【Time】between 14:00 and 15:00
Please come and meet Mamyu as well as trying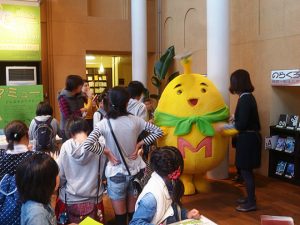 the workshop!
"Be a Mamyu's stylist!"
Details are here
(Sakata)