Pow! It's Director Aramata here.
There are many interesting people working here at the museum, thinking up strange projects and exhibitions every day.
Almost every week we have some kind of new project going on here.
As director, I have an interest in these projects, so want to tell you about it on this page.
I'm also thinking of setting up a Director's Postbox so that if you have any requests you can send them through and tell us 'do this kind of thing!'
Anyhow, did you notice there is a red-colored exhibition corner on the 2nd floor in the window of the director's office? When I come here, I go into the basement archives and study ancient manga. There are countless books in the museum. But there's so many that we can't show them to everyone.。
So, I thought I'd let everyone see a little of the strange and forgotten manga I have found. So, I made a corner called the 'Treasure Trove MANGA-ful'. The first collection I put together was akahon (red book) manga. Many years ago, manga wasn't often sold in bookstores, and the children's monthly magazines issued by big publishers only had a few manga in them. They were also expensive so children couldn't afford them. They needed their parents to buy it for them.
But toy shops and sweet shops' customers were children, so they started to sell manga. They were cheap, flimsy books, but they were popular because the children could buy them. Although they were like the kind of books you might get for free these days.
Then around that time new popular artists like Tezuka Osamu debuted in manga, and properly printed and bound books were also distributed on loan from rental book stores, there were like rental video stores, but for books.
The museum has a lot of that kind of children's manga that nobody remembers anymore. It's not always noteworthy, but it's very cute.
Please take a glance when you pass by the director's office.
During the summer holidays the museum will open a yokai classroom (about spirits and ghosts), and I'll let you know all about that another time. I hope you look forward to it.
From the Director
Oh! I forgot. I decided to post a manga series I've come up with on this page. The artwork was drawn for me by an illustrator who lives in Niigata, named Benoji. There's no sweet shop owner in the manga, but there's an elephant selling sweets who is a kamishibai (picture story show) performer. If you enjoy it, he'll be a happy elephant.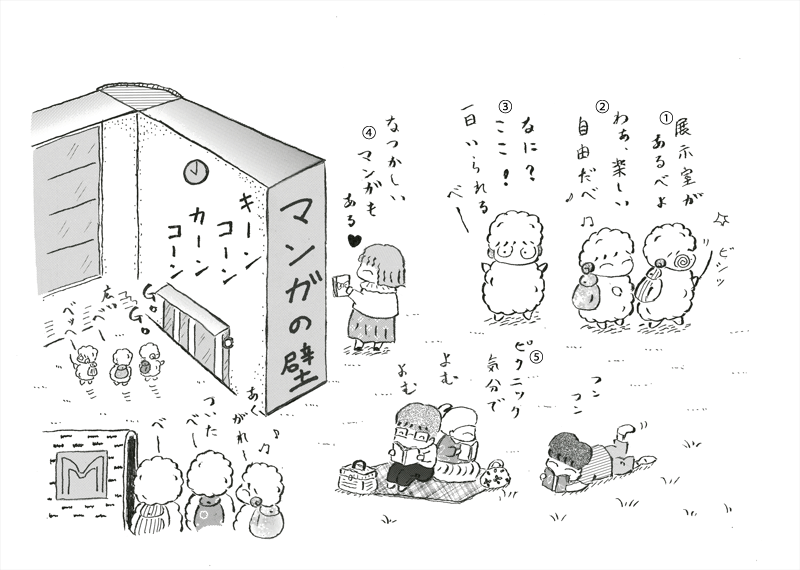 ①They have an exhibition room. ②Wow, how fun! Let's take our time. ③Look at all this?! I need a whole day. ④There's old nostalgic manga too. ⑤Reading picnic-style.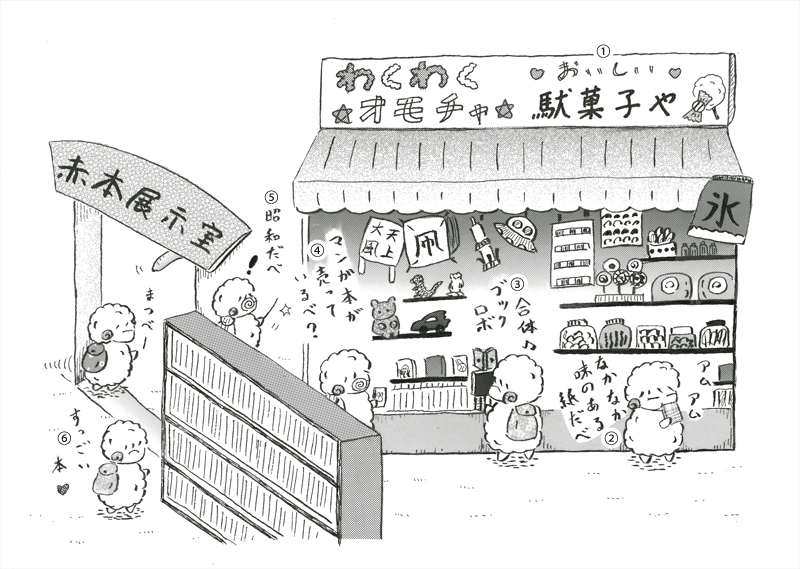 ①Tasty Sweet Shop ②It's quite tasty paper. ③Form Book-Robo! ④They sell manga books. ⑤It's the Showa era. ⑥So many books!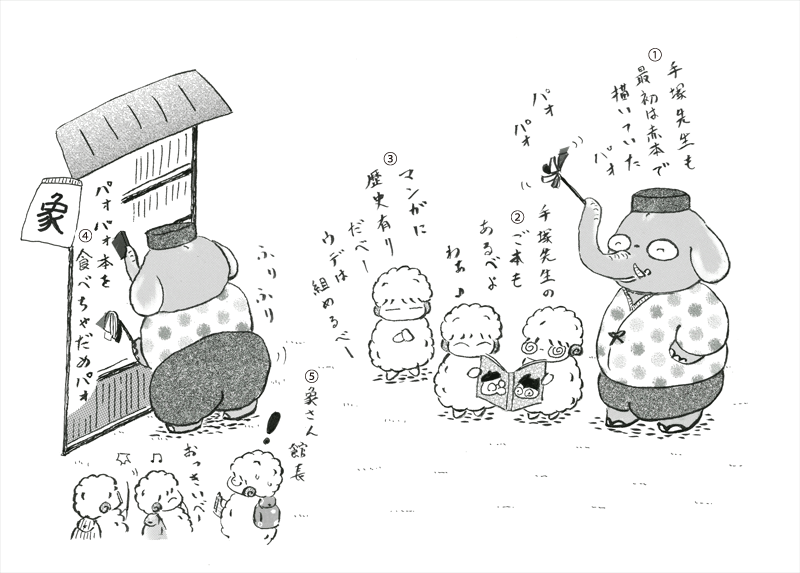 ①Tezuka also drew akahon at first. ②They have Tezuka's books too! ③Manga has a long history. ④Don't eat the books. ⑤Mr. Elephant Director is so big!